Unless you are a real petrolhead, almost everyone agrees that it is a good idea to reduce the number of journeys by fossil fuel vehicles, which helps reduce road pollution and associated deaths caused by road pollution.
The Government and local councils have thrown everything behind imposing cycle lanes and traffic calming measures on to residents, under the cover of the pandemic, without any consultations or considering alternative measures, such as incentives to not drive, car sharing, park and ride schemes and better electric powered pubic transport.
Now we hear that lives are being put in danger because ambulances are stuck in traffic caused by controversial new cycle lanes and this raises some real concerns.
One of Britain's leading paramedics warned that emergency vehicles are being delayed after councils were handed millions of pounds to turn car lanes into cycle-only routes. They are being rushed out to try to encourage more people to cycle to work rather than use public transport or their cars because of the pandemic.
It does not seem to be about reducing road pollution, there is a very apparent agenda to try to make it harder for people to drive in major towns and cities.
Official figures reveal that the number of people cycling has fallen by 25 per cent since the first lockdown in the spring, but the rollout of cycle routes continues.
Richard Webber, the national spokesman for the College of Paramedics, informed The Mail on Sunday: 'If you are having a cardiac arrest, your chance of survival decreases by ten per cent for every minute's delay. If ambulances are stuck waiting for someone to open a barrier or taking a long route around to your house, then you've got a big problem.'
'Lots of areas have segregated roads now in such a way that you physically can't get down the road and therefore we've had to do long detours.
'In some areas where they once had two lanes, they have now gone down to one lane of traffic and a cycle lane and the problem with that is there is nowhere to go.
'People can't get out of the way and ambulances get stuck in traffic. It has been the same in various city centres.'
Mr Webber urged councils to consult with ambulance services: 'They need to think that if someone was having a heart attack, could the ambulance get to them as quickly as it could now? But I don't think the councils are thinking like that.'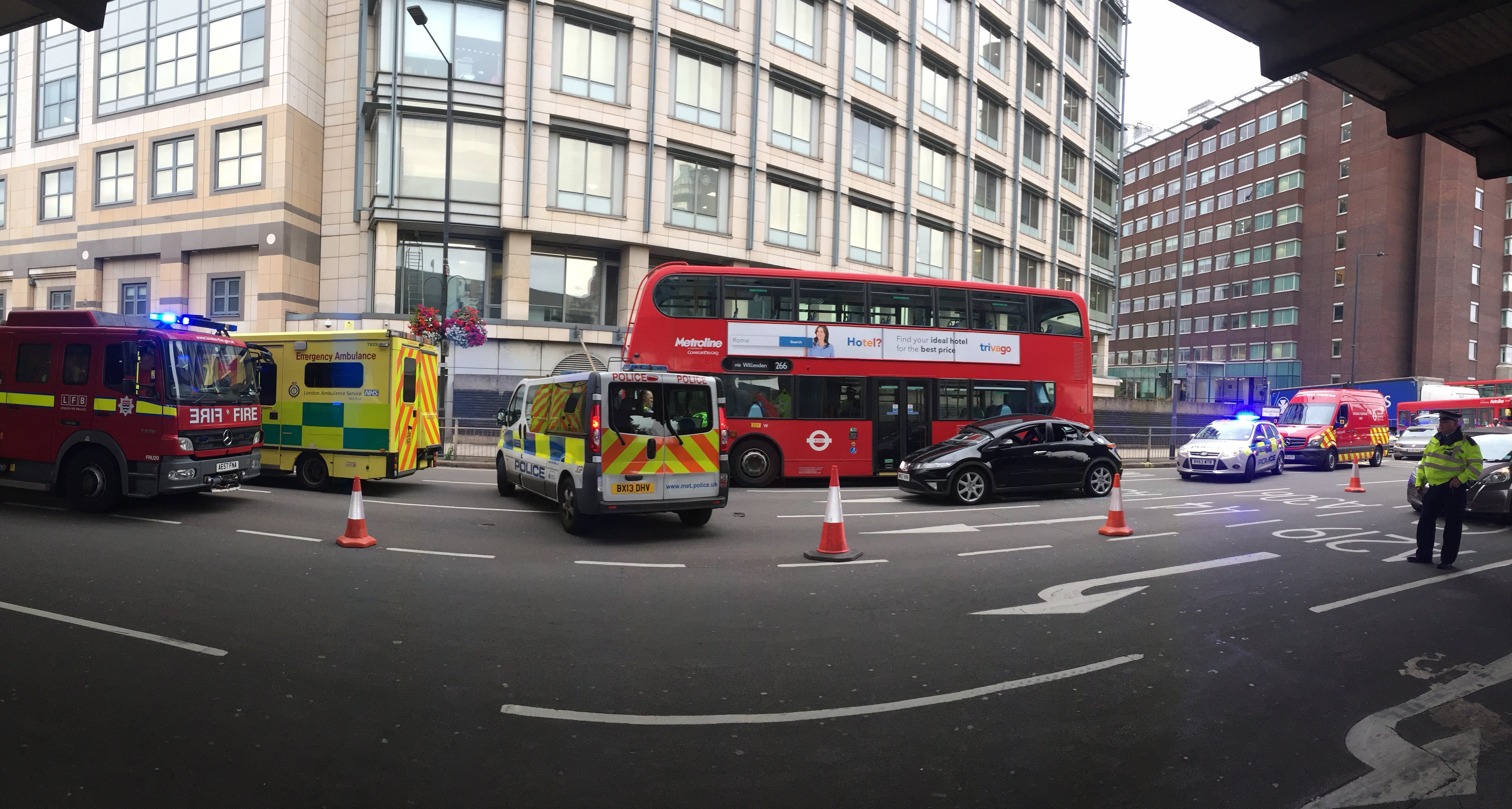 [Image source: Shutterstock Nov 2020]
Ambulances get stuck on London roads
There are several eye-witness accounts of emergency vehicles caught up in road congestion.
On social media last week, a video showed an ambulance with flashing blue lights unable to pass a long queue of cars on the busy Euston Road in Central London. Vehicles restricted to a single lane were unable to move out of the way because of the new cycle lane bollards.
Another ambulance on an emergency call was pictured stuck in traffic close to Euston Station while the new cycle lane was empty. One furious paramedic was pictured shoving blocks out of the way during an emergency call in Harrow, North-West London.
Some residential roads in the area had been blocked off with barriers to create 'low traffic' zones, but the ambulance could not get through. And in the Conservative-led council in Wandsworth, South-West London, scrapped its new cycle lane plans after seeing footage of the problems that ambulances have had in Tooting.
Duncan Dollimore, Cycling UK's head of campaigns: 'The Government confirmed on Friday that when councils implement any highway scheme, including cycle lanes, they must consult with emergency services.
'Cycling UK fully supports this and is available to address the concerns and any evidence the College of Paramedics or any health trust might have. To date no one has contacted us.'
Let us be clear, this is not a cyclist versus motorist issue. All users want to share the highways responsibly, but this is going to lead to the loss of lives. While its important to provide cycle lanes, this must not be at the expense of the existing roadways set aside for cars, especially since cyclists can use the same roads as well.
Do you think the Government and local councils should be allowed to do this without consulting emergency services? Let us know in the comments below.