Most people view yellow box junctions as a revenue generator, and with figures such as £16m in revenue being quoted, it would be hard to disagree.
Or how about the near £3m revenue from a single junction in Fulham? Or the £130 fine for 123,071 motorists caught in London just last year?
If you don't live in London, or Cardiff (the only other authority that currently has the power to fine for these infringements), then it's doubtful that you'll have given it much thought, but I can guarantee you, that's about to change.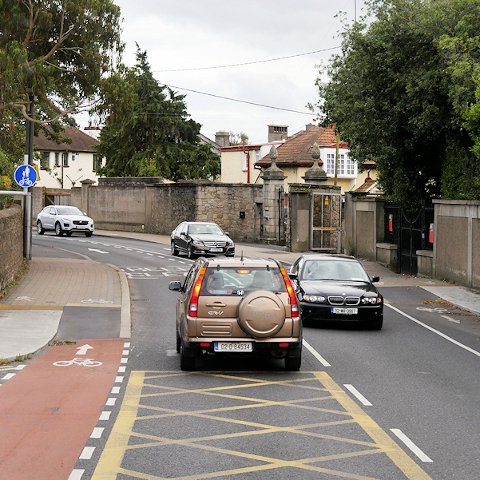 A recent announcement by the Transport Secretary, Grant Shapps, has made it clear that he's ready to issue all councils the right to implement and charge for moving traffic violations, previously the remit of the police. Essentially, this is all about those yellow box junctions.
After the Commons transport committee stated that the police were 'too thinly stretched to enforce everyday traffic violations', Shapps has placed the responsibility of these minor infringements in the hands of local councils, and will be allowing them to keep any monies 'earned' from them.
It would be nice to think that all local councils have an understanding of where their traffic hotspots are, and make improvements to aid the flow of traffic, thereby negating any possible need for box junctions, but cynical as I am, I can't help feeling that there will only be enough budget to place a previously unseen / unneeded box junction in place of other traffic improvement measures. The fact that they can now make money from them of course won't influence their decision.
Nicholas Lyes of the RAC thinks that there may be a conflict of interest: "Local authorities know where congestion might require some form of enforcement, particularly in the case of box junctions, so it stands to reason they should be able to improve this through the use of enforcement."
"However, we remain concerned that cash-strapped authorities may see this as an opportunity to extract more revenue from drivers."
It's worth noting that a report by the National Audit Office in 2018 stated that local authorities have had a 49.1% real-terms reduction in government funding between 2010/11 to 2017/18. Northampton County Council have been effectively declared bankrupt, and Norfolk, Surrey, and Lancashire County Councils aren't too far behind them.
Northampton council have been given special dispensation to raise their council tax by 5% this year.
Between 2017/18, Transport for London collected up to £16 million in fines from drivers who fell foul of a yellow box junction, but nearly 80% of respondents to an RAC poll said that it was purely down to poorly structured traffic management; being forced to stop in the box junction due to poor sequencing of traffic lights beyond the box itself.
Box junctions were first introduced back in 1967, so impatient drivers aren't a new phenomenon, but it does seem that as traffic volume builds, driving standards are falling. With the increase of 'surveillance' technology, the crime of 'failing to supply information as to identity of driver when required' has skyrocketed – from just 12,056 convictions in 2006 to 82,029 in 2016.
This is clearly an indication as to the proliferation of monitoring devices, and with technology advancing at such a rate, this soon will be outdated and unneeded; the car will automatically monitor and send data where needed, and as we've seen, adjust your speed accordingly.
But as with all technology, there will be downsides: Just the same as speed or safety cameras, there will be no discretion, no allowance for external influencing factors, and no escaping the penalty notice. To a degree, these box junction cameras are already at that point – blaming poor road design, or in-built blockages that seem almost designed to stop you in your tracks is no excuse, you will get fined for any indiscretion, minor or otherwise.
A number of campaigners are suggesting that a warning notice would be an appropriate response for the first-time offender, perhaps with a sliding scale of charges – repeat offenders that are blatantly trying to cheat the system should face severe penalties.
However, if councils invest money from their 'spend to save' budgets, you can guarantee that they'll want to see those savings immediately, so it's unlikely that we'll see a softly-softly approach when it comes to revenue generation. The full force of the law will be applied, with no doubt a lengthy, tenuous, and drawn-out appeals process.
Will we see a rise in box junctions with this new legislation? Do you think it will be aimed at creating a solution for traffic congestion? Or just a simple, quick and dirty way of making money? Let us know in the comments.