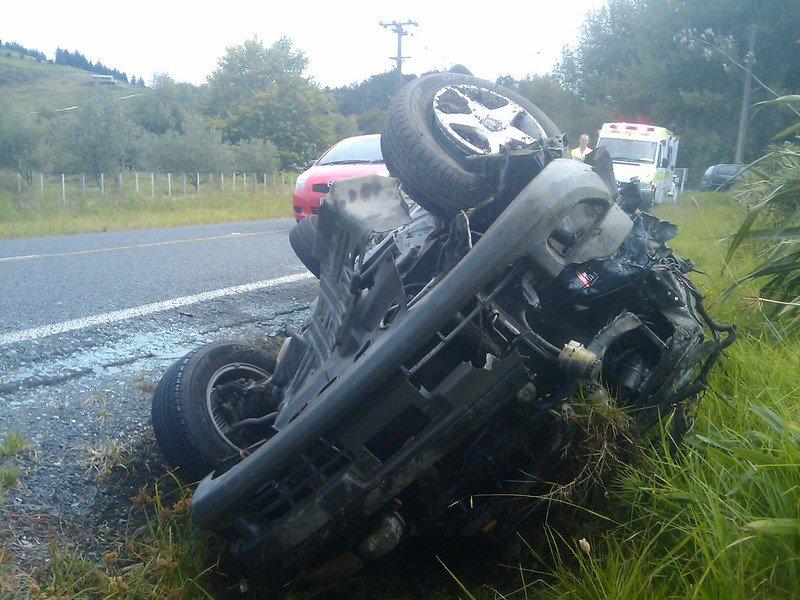 ["Car Crash: 12 march 2009" by jenineabarbanel is licensed under CC BY-NC-SA 2.0]
Police warned a number of 'rubberneckers' at a recent accident in Essex to stop filming on their mobiles as they drove past or they will be arrested and charged with using their mobile phones while driving.
Police noticed several drivers using their mobiles to capture the car wreckage, as well as passengers.
Emergency services arrived at the A13 in Thurrock, Essex, where an Audi car had been rear-ended by an HGV causing the vehicle to smash into a flat bed truck.
As a result of the accident, one person sustained injuries and was taken to Queen's Hospital in Romford. It is not believed their condition was serious.
The crash caused large queues of traffic on the A13 and M25, leading to the road being shut for most of the day.
Essex Police have released a new photo of the incident showing the car involved wedged under a lorry in front, (see below).
The Police issued a severe warning to drivers who used their mobiles to film the incident as they drove past.
'Thankfully the driver of this car hit from behind by an HGV on the A13 earlier wasn't seriously hurt. To the 20 or so drivers who drove by one handed to film it with your phones not watching the road ahead, keep an eye on your (mailbox emoji) …as we'll be in touch.' taken from a Tweet by the South Essex Road Policing Unit.
In September this year, a 25-year-old man died in a crash on the A1089 shortly before it joins the A13. Emergency services were called to reports of a collision between a blue Volkswagen Crafter van and a stationary HGV. An air ambulance was sent, but sadly the man died at the scene.
Police need to take tougher stance on mobile use at wheel
Since 2006 there have been police powers to stop mobile phone use at the wheel under the Road Safety Act, where motorists can earn 6 points and a £200 fine, but that does not seem to deter people.
In 2018 we saw the roll out of "vulture cameras" on selected roads such the A3, with tech capable of detecting in the day or night if a driver is using a mobile phone while driving, but the deployment is still limited to a handful of locations and drivers soon learn where they are.
The concept of 'rubbernecking' at accidents is nothing new, with some motoring bodies suggesting that at least 30% of all traffic jams are caused by rubberneckers on the opposite side of a road slowing down to look at the gory details of the accident, or even a broken down vehicle.
But the combination of 'rubbernecking' and mobile phone use at the same time needs to be cracked down upon as much as possible, or we will just see continued lawlessness on Britain's roads, recorded and posted on You Tube as and when they like.
Do you think the police should crack down hard on 'rubberneckers' who film accident scenes on their mobiles? What sort of penalty should they receive? Let us know in the comments below.