In February 2021, it was announced that councils will miss out on £375million of their annual road maintenance budget, meaning funding for pothole repairs has been significantly reduced.
The government's initial promise was to afford councils £1.5billon for the upkeep of roads in Britain, but the impact of the Covid-19 pandemic means that they will now only receive £1.125billion.
The Department for Transport justified the decision by saying that the government had: 'rightly prioritised the response to Covid-19, support jobs and supporting families at this incredibly difficult time.'
However, a study conducted by Citroen has now found that a third of drivers (32%) reported their vehicle had been damaged when hitting a pothole and had required garage repair.
The research also found that the average cost of these repairs was around £140, while some drivers reported having to fork out up to £250 to fix more extensive pothole damage.
Not only is pothole damage costing drivers money, but it also accounts for a considerable chunk of the road-related compensation paid out by local authorities in England and Wales. As reported by the latest Asphalt Industry Alliance ALARM review, local authorities paid out £8.1million in road-related compensation during 2019/2020. A colossal £5.9million of that total was for damages to vehicles caused by potholes.
It was hoped that an increase in the road maintenance budget this year would reduce the number of potholes, and therefore lower the cost of repairs for drivers and local councils alike. However, the budget cut will mean that the issue persists for longer and will continue to cause problems.
In response to the worrying amount of pothole damage, the managing director of Citroen UK, Eurig Druce, commented:
'It is concerning to find that potholes have caused damage to nearly a third of drivers' cars across England and Wales' and suggested that local authorities 'have a lot of issues to solve.' He also recognised that there is no quick fix for pothole repairs, especially with a smaller road maintenance budget and that it would 'take time' to rid the nation of hazardous potholes.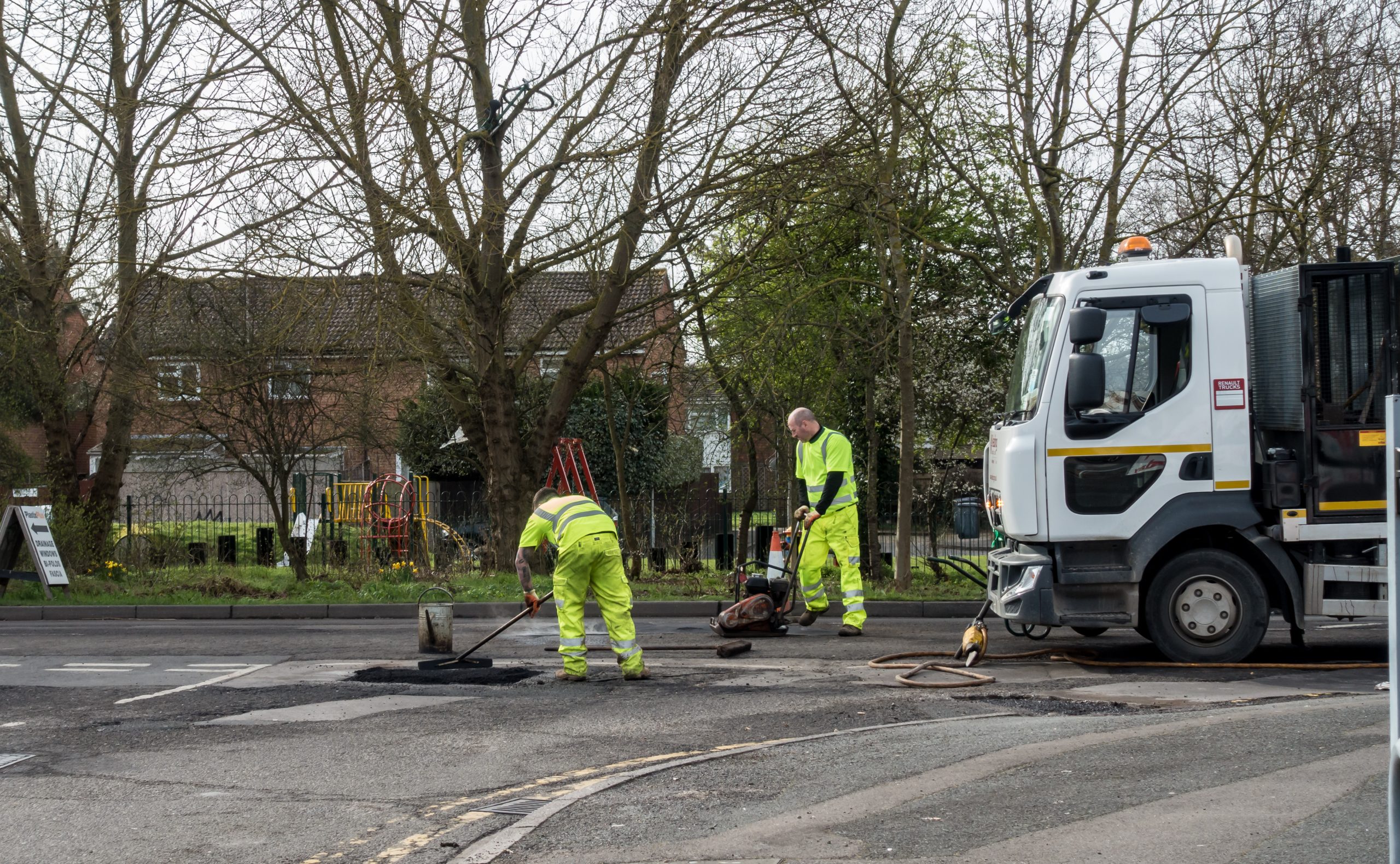 [Image Source: Shutterstock, March 2021]
March is the worst month for pothole damage
As if a budget cut and an increase in damage to vehicles caused by potholes isn't enough to cause concern for drivers, Admiral has also found that March sees the most amount of pothole damage reports.
In a February press release, Admiral stated: '13% of pothole-related claims take place in March, which is more than any other month' and that 'pothole-related claims have increased by 30% since 2016.'
It was also noted that 'despite restrictions in place throughout the UK for much of 2020, the number of pothole-related claims increased by 20% last year compared to 2019, showing the ongoing and increasing problems that potholes cause across major roads in Britain.'
As well as highlighting the increase in damage caused by potholes, the report also commented on the danger potholes can pose to drivers and other road users:
'When the steering is severely damaged, it can also make it difficult for the driver to control the vehicle, which could increase the risk of accidents.'
Lorna Connelly, Head of Claims at Admiral, offered advice for drivers to help them avoid hitting potholes in such a way that could cause damage to their vehicles:
'When you see a pothole in the road ahead, slow down to reduce the amount of damage caused to your vehicle.'
Drivers will know, however, that this is not always possible and hitting potholes is, more often than not, unavoidable.
Despite the cuts to road the road maintenance budget, however, there are a few plans in the pipeline for reducing the number of potholes on our roads.
JCB recently announced the development of a new, high-tech machine with the ability to repair potholes rapidly. The Pothole Pro will fill in a pothole in under eight minutes, accelerating repair time by 700% and thus reducing pothole-related damage.
As well as this, the Government in England has developed a 'dedicated Pothole Action Fund'. A formula will be used to allocate funding to be shared by local authorities to either fix potholes or prevent them from forming in the first place.
In the meantime, however, it seems that it will remain the responsibility of drivers to be vigilant in their avoidance of potholes where possible.
Have you suffered pothole-related damage to your vehicle? Are you disappointed in the reduced funding for pothole repair?
Let us know in the comments.