Electric vehicle charge points have been installed at over 600 Tesco stores by the UK's largest free electric car charging network, Pod Point.
The charge points have provided users with over 10 million miles of carbon-neutral motoring, studies reveal, and are working as part of the government's 'build back greener' scheme, designed to cut carbon emissions.
Tesco's partnership with Volkswagen and Pod Point has recently resulted in providing its 500,000th free top-up, a colossal achievement that has been welcomed by transport secretary, Grant Shapps:
'As we accelerate towards a cleaner and greener transport future, it's great to see one of Britain's most iconic household names leading the way with electric vehicle charge points.
'In the time it takes to pick up the groceries, drivers up and down the country can now quickly and easily charge their cars, and with £2.5bn of government support to encourage their take-up, there has never been a better time to switch to an EV.'
Further research into the effects of the partnership also reveals that the scheme has served to reduce carbon emissions by approximately 2,120 tonnes. James Robinson for the Mail Online suggests that this is 'the same as or more than 2,770 acres of forest will manage in a year.'
Clearly, this is a huge step forwards for the transport industry and shows the extent of their efforts to do their part to cut carbon emissions. Director of Volkswagen, Andrew Savvas, commented:
'Our partnership with Tesco and Pod Point emphasises our commitment to carbon-neutral mobility for all, and we're delighted to have reached this milestone – helping owners of all-electric car brands top up with free renewable energy while they're doing their grocery shop.'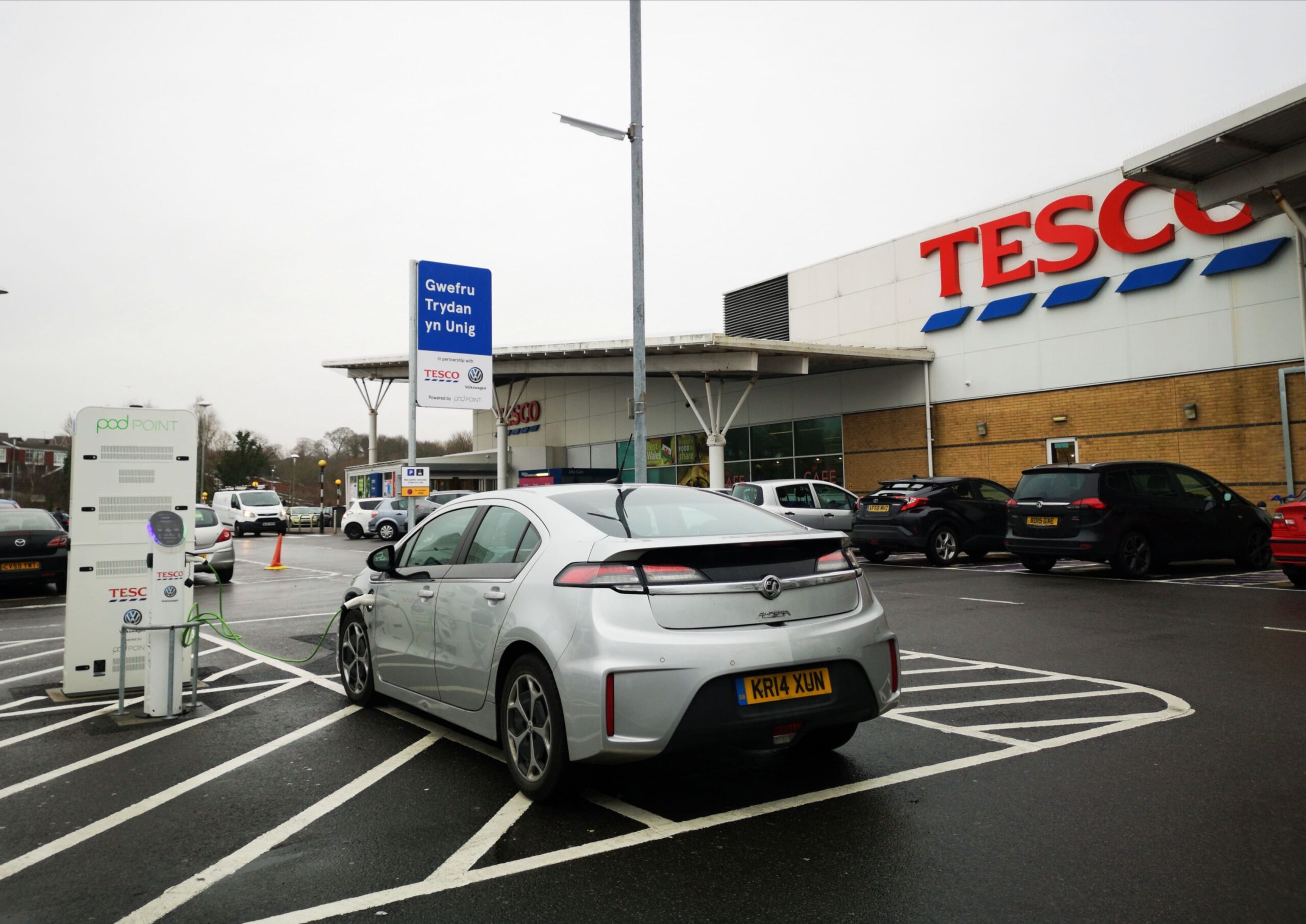 [Image Source: Shutterstock, April 2021]
Tesco's busiest electric vehicle charge points
While over 600 Tesco stores now have free charge points, several have proven to be the busiest, indicating a higher up-take of electric vehicles in these areas. The top 5 busiest Tesco charge points were located in Slough, Stourbridge, Crawley, Altrincham and Bromley by Bow. These were closely followed by other areas such as Watford, Orpington and Hampshire.
It is clear that electric vehicle owners in locations up and down the country are making the most of these free charge points.
Chief operating officer at Tesco, Tony Hodgett, commented on the overall purpose of the partnership:
'We are committed to reducing carbon emissions in all our operations and aim to be carbon neutral in the UK by 2035.
'As part of this, we want to encourage our customers to play their part with the rollout of free-to-use EV chargers to 600 of our stores.
'Providing customers with charging points offers them a sustainable choice, and giving them the opportunity to charge their car for free while they shop is a little help to make this easier.'
While Tesco's partnership with Volkswagen and Pod Point is proving to be a positive contributor to cutting emissions, experts believe that charge point rollout is not in keeping with increased demand.
In fact, What Car? editorial director, Jim Holder, suggests that the number of charge point devices available needs to be at least 10- or 20-times that the current levels to cope with frequently increasing demand.
A report conducted by the Policy Exchange think-tank reveals that the number of public charge points currently stands at 35,000. They suggest that this will need to increase to 400,000 by 2030 to keep up with demand, especially when considering electric vehicle numbers in the UK currently stand at 108,205. This is already an increase of 185 per cent compared to 2019, highlighting the rate at which demand for charge points will accelerate in the coming years.
Despite this challenging statistic, however, Tesco's partnership with Pod Point is leading the way for the challenge to be met:
'The partnership is making great strides towards our goal of delivering the nation's largest retail EV charging network – one that is reliable, accessible, secure and free, making it even easier for drivers to choose electric and accelerate adoption,' says Pod Point Founder and CEO, Erik Fairbairn.
The UK has a legal target to reduce greenhouse gases to 'net zero' by 2050, and it seems that partnerships such as these will pave the way for that goal to be met.
Have you charged your electric vehicle at a Tesco charge point recently? Will Tesco's partnership with Pod Point encourage you to make the switch to an electric vehicle?
Let us know your thoughts in the comments.