According to the latest study from the RAC Foundation, a driver receives a penalty notice every 2.5 seconds somewhere in the UK. This adds up to a whopping 12 million penalty notices having been handed out each year and means that 1 in 3 drivers has received one of these penalty notices in a year.
The number of penalties is because of the increased use of cameras to catch offenders which has also led to greater mistrust in the system amid motorists. They see a lack of discretion and common sense when issuing the penalty notices, which causes people to distrust it.
Dr Adam Snow, criminologist lecturing at Liverpool Hope University compiled the statistics for the RAC Foundation that showed each year there are:
• 8 million parking penalties from local authorities
• 2.5 million penalties for bus lane and box jurisdiction
• 500,000 late licensing and insurance penalties
• 1 million red light and speeding penalties
These figures don't include the additional 5 million parking penalties for drivers who are on private land or the 1.2 million drivers who use a speed awareness course to avoid the penalty.
Changing face of policing
The figures show that as police budgets are cut, they look to rely on the extra income generated from these fines. Reductions in police budgets are 'perhaps the main driver' behind the reliance on cameras, according to Dr Snow. Between 2010 and 2014, the number of police officers also fell by nearly one quarter, so less police on the streets combined with more cameras is why motoring penalties are on the increase.
Steve Gooding of the RAC Foundation said that in order for the system to maintain legitimacy, the public needs to be able to see these automatic enforcements as proportionate. This means that while wrongdoing should receive punishment, a decline in front line policing shouldn't lead to a reliance on these penalties to make up the shortfall.
Currently, millions are caught on camera for minor misdemeanors, such as not paying on toll roads or jumping a red light, while more serious crimes are seen as going unpunished because there aren't enough police to deal with them, or the police that they have are not trained or do not wish to engage with the criminals, such as the recent spate of thefts on mopeds in London.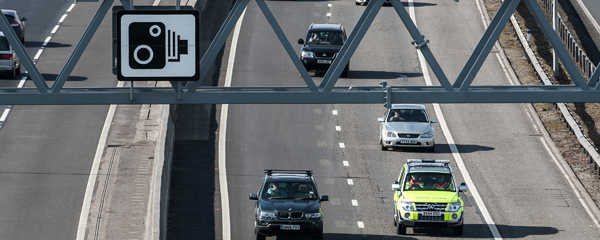 (Credit – Highways England/Flickr)
Is the income being spent wisely?
On the other side of the argument is Martin Tett, the spokesman for the Local Government Association's transport department, who says that effective parking control is one of the most frequently demanded services from residents and this is why parking companies that enforce action are both a deterrent and way to generate much needed income for underfunded councils.
In addition, income raised from offences such as on-street parking fines, is then used to help run parking services, with any surplus then being used for essential transport projects. This includes the £12 billion road repair backlog as well as creating new parking spaces in towns and cities. However, this year the Government has cancelled 22 road projects that were intended to ease road congestion and there is a general perception that traffic congestion is worse than ever.
If the income generated from these fines was used to pay for the police and projects to improve the road network to ease congestion then most drivers would agree to this. It seems that the income is not being spent on this, rather on measures to monitor drivers and penalise them further.
Motorway speeding fines reach new low
Drivers are facing even higher penalties with the latest change to speeding fines, which were introduced earlier this year. In some situations, motorists could face a possible £2500 fine and a ban if they exceed a permanent 40mph speed limit on a motorway. Currently, the motorway speed limit is 70mph but there is a stretch of the M32 in Bristol where it is currently set to 40mph.
The measure was put in to place following a set of temporary speed cameras due to roadworks that started in July. During this time, some 10,000 motorists were caught speeding over a two-month period. Luckily, at that time, the speeding fines weren't enforced.
However, at the end of October, the speed limit became permanent and speed cameras were set at 40mph. The maximum speeding fine is £100 but if you are deemed to have exceeded it severely, then the fine can be as much as £2500.
What do you think of the scale of motoring penalties? Is it too much or is it about time people are penalised for these offences? Have we reached a situation where surveillance has gone too far? Let us know in the comments below.