Do you enjoy driving round looking for a parking space? Whether you're out shopping or trying to park outside your own house, there's little more irritating than having to hunt for a parking space day after day. Now, new data has shown that it's not a lack of parking spaces that's the issue. People are in fact parking so badly that
a fifth of all kerbside parking spaces
are going to waste. Direct Line Car Insurance commissioned a review of 120 roads that were often described as being "full," to find out why people were finding it so difficult to park on them. The study uncovered that 17% more parking space would be available on average if people parked more effectively. That would be enough to accommodate thousands of vehicles. If everyone used parking assist technology, which helps find spaces that are the right size for your car, and ensures that you use the space correctly, this would go a long way towards freeing up the lost 17% of parking space.
The UK's worst cities for parking
London and Birmingham were found to have the most parking space wastage, at 20% each. The study found that drivers in these cities left the greatest distance between their cars. Conversely, Brighton was found to have the most efficient parkers, with just 11% of space left unused on "full" streets. Out of 2,000 drivers who were questioned as part of the research, 47% said that poor parking has caused them major frustration over the past year. Furthermore, 40% avoid going to the shops because they're concerned about parking. This is bad news for the UK's businesses. When it comes to bad parking habits, 13% of drivers admitted to parking across two spaces in order to save a space for someone else. Meanwhile, 11% said they had put a bin in a parking space to secure it, while 38% had deliberately left space to protect their car. A guilty 10% of motorists had parked in a space so small that others couldn't move. By contrast, a whopping 73% had left space so that they could easily manoeuvre. The study also found that 31% of motorists had chosen a space based on the quality of the cars parked on either side of it.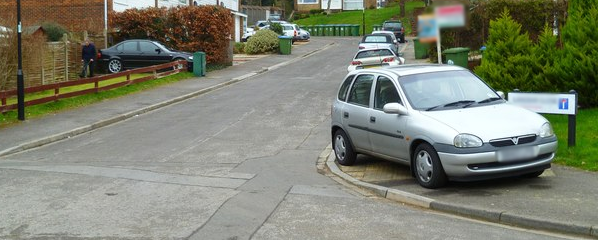 Parking with confidence
Looking at people's parking confidence also uncovered a few surprising details. A fifth of people had parked away from home to avoid parking in a difficult space. Around the same number had asked a friend or relative to park for them. In addition to this, 18% of drivers had given up on trying to park in a space because someone was watching them. Inrix has calculated that Brits spend an average of 44 hours per year looking for parking spaces. That adds up to £733 per driver in wasted fuel, time, and emissions. The situation is even worse in London, where people spend as many as 67 hours per year trying to park, at a cost of £1,104. Belfast, Leeds and Bristol also score highly when it comes to time spent searching for a parking spot. On a UK-wide basis, it has been suggested that a total of £30 billion is wasted on this time-consuming exercise every year.
The worst parking in the UK?
One of the worst cases of parking that was reported on earlier in the year was that of a driver who had parked their Seat over four parking spaces. The motorist was concerned about another driver hitting their vehicle. The selfishness involved caused uproar. By parking inefficiently, drivers are wasting valuable space that could be used by other motorists. Bad parking habits mean that people are spending an unreasonable amount of time and money searching for somewhere to park. With this in mind, it may be that parking assist technology should be on everyone's car wish-list in the future. This could make parking a more efficient and less stressful task for drivers up and down the UK. Do you ever park across two spaces in order to protect your car? Is doing so common sense or pure selfishness? Leave a comment to share your views.