Whether it is cruising down Route 66 while exploring the zanier side of American pop culture or rambling through Europe exploring castles, vineyards, and exciting nightlife, nothing beats the romance and sheer sense of freedom of a road trip!
Guidebooks and good old-fashioned maps printed on paper still have their uses, but these days it would be insane not take advantage of that internet-connected computer that sits in your pocket (or on your dashboard).
1. A GPS Navigation App
If there is one bit of modern technology that can convert even the hard-bitten technophobe, it is GPS. And why spend money on an expensive dedicated GPS unit when your phone has a much better processor, a higher resolution screen, and can run the much more sophisticated software.
Waze has its fans, thanks mainly to crowdsourced traffic reports, but the indisputable king of GPS apps is Google Maps. I am not a big fan of Google, but Google Maps is a wonder of our times. It can also do a lot more than provide beautifully rendered turn-by-turn navigation to your destination after factoring the latest traffic reports into its calculations.
It's comprehensive and accurate maps cover 220 countries and territories, and you can easily search for nearby restaurants, banks, petrol stations, and business you will need on your journey. And when you decide to pull over for sightseeing, Google Maps offers great walking guidance and public transport, complete, with 360 degrees street view to help ensure you never get lost.
Maps can also be downloaded for offline use for when out of intent range or travelling in countries where it is prohibitively expensive to use your mobile data allowance. Just download them in advance on your hotel or any café's WiFi.
Handy hint: The jury is out over whether toll roads end up costing you more money, but for many Brits, they are a bane of travelling abroad. In fact, even if they do save you a little money, travelling by smaller roads is invariably more scenic.
You can tell Google Maps to avoid toll roads by first selecting your destination -> Options (the 3 dots next to "Your Location") -> Route Options -> Avoid toll roads. You can also avoid motorways and ferries in this way.
If you have an Android device then you probably already have Google Maps on it, but if not then you can get it here. Google Maps is also available for iOS.
As a privacy advocate, I feel duty-bound to point out that Google Maps is not a great choice when it comes to privacy. OsmAnd is great open source alternative that leverages the excellent crowdsourced OpenStreetMap project. It offers offline navigation and voice guidance. OsmAnd is available for iOS and Android.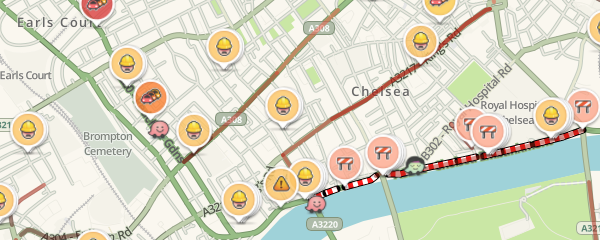 2. A VPN app
A Virtual Private Network (VPN) is the Swiss army knife of internet privacy and security. If you are not sure what a VPN is or why you should have one in general (and you should!), please see here.
"Yes," I can hear you say, "VPNs are amazing, but why do I need one on my road trip?"
Well, for a start, all the usual reasons. A VPN will prevent your mobile provider and government from spying on everything you do online. You may not care about this if roaming abroad as you might at home, but there is a principle involved here!
A VPN protects you against WiFi criminal hackers, which is invaluable if roaming data charges force you to rely on hotel and café WiFi for your internet aces. And it is not just hackers you need worry about! After all, the people who run the public WiFi networks cannot always be trusted with your privacy either.
A VPN is also handy for keeping up with TV shows while you are away from home and the ability to plonk the kids in front of CBeebies on BBC iPlayer on long journeys or when enjoying a well-earned glass of wine after a day's driving a lifesaver.
If your road trip is somewhere exotic, a VPN is great for overcoming local internet censorship. Indeed, in even most countries, hotels and the suchlike restrict what you can access over their WiFi.
Most VPN services offer dedicated apps for both iOS and Android, although it is not hard to manually configure them either. For a list of great VPN options for both platforms, please check out 5 Best VPNs For iPhone and 5 Best Android VPNs on BestVPN.com.
3. A Music app
If you are going on a road trip then you need some funky tunes to listen to as the scenery rolls by! When it comes to music apps, there are two main approaches you can take. You can take your music with you, or you can stream it.
Local music players
Taking your music with you has a great deal to recommend it while travelling. You don't need to worry about expensive data roaming charges, or the music grinding to a halt when mobile data coverage gets patchy. If you don't want to grow bored of your music quickly, you'll need a lot of it. This means taking a phone with plenty of storage.
I won't even bother trying to dissuade iPhone users from using iTunes, and why should I? It is a great app (on Apple platforms). Android users almost certainly have a music app pre-installed on their phone by its manufacturer, but audiophiles' go-to app of choice is the all-singing and all–dancing Poweramp (Paid app).
Alternatively, open source fans may prefer Vanilla Music (Android only).
Streaming music players
Steaming music is very useful if your device has limited storage and if you like a great deal of flexibility in what you listen to. Data charges are the main concern, although you can always download tracks locally on your hotel's WiFi for off-line listening during the day.
Europeans (including Brits for now) should also be aware that by EU law, roaming charges have been abolished. This means you do not need to pay any additional tariffs on your regular data plan when travelling to another European country.
Again, I am not even going to bother trying to dissuade iPhone users from using iTunes with the Apple Music streaming service. Spotify is also another popular choice for both iOS and Android users, but I am going to recommend Google Play Music.
A Google Play Music subscription provides unlimited access to a ridiculously large music library, and you can pin any track for local playback. The reason I recommend it, however, is that you can upload up to 50,000 of your own tracks for free. You can then listen to these to your heart's content without paying Google a penny!
4. An app that will find you somewhere to stay
One of the best things about a good road trip is that you have the freedom to roam. Find an idyllic beach, why not stay for a couple of extra days? A local tells you about a fantastic well-kept secret, why not go off and explore it?
This probably does mean, though, that you don't know where you will end up spending each night. Fortunately, apps can take the guesswork out finding good accommodation at short notice. This can also be a lifesaver in high season when just rocking up on the doorstep after a long day's travelling is likely to see you caught-out for somewhere to stay.
Airbnb has revolutionised the holiday accommodation market. Using the Airbnb app (iOS and Android) you can find and rent out everything from entire villas to cheap rooms in family homes. This is a great way to meet locals, absorb the culture, and get inside information on the best places to visit during your stay!
A wealth of Airbnb accommodation is available just about everywhere in the world. The app will show you plenty of photos, maps, and user reviews, so you can find exactly what you want and will experience no nasty surprises when you get there!
Although a bit niche, I am also going to recommend Park4Night (iOS and Android) to the more adventurous out there whom road trip in camper vans and don't like being tied to official campsites. Park4Night lets you search specific areas or routes for off-road "wild camping" spots, official free rest areas, vineyards that allow you stay overnight, and the suchlike.
Sites are crowdsourced and usually include photos and users' comments. Coverage in the UK and Europe is particularly great, but spots in North America are also listed.
5. PetrolPrices
Well, why wouldn't we recommend our app? If you are travelling in the UK then the PetrolPrices app (iOS and Android), is essential for keeping costs down during your trip. It displays all 8,490 UK petrol forecourts, with prices that are updated daily 365 days a year.
Of course, if you are travelling outside the UK then the PetrolPrices app is less useful (at least for now!).
Although it pains me somewhat to say it, if travelling in a country where you don't know the language, then Google Translate (iOS and Android) is pretty much essential.
Its' translations are not always perfect, but they are good enough to see you through most situations. The app can translate voice conversations in realtime, and you can simply point your phone's camera at a menu to take the hassle out of actually feeding yourself while abroad.
Simply put, Google Translate is a wonder of modern technology, and nothing else comes even close to doing what it does. If you prefer to learn a bit of language before visiting somewhere (or brush up on a rusty one), then Duolingo (Android) is very good and is completely free.
Conclusion
There are few areas of life where the benefits of modern technology are more obvious than while travelling. The apps listed above make going on a road trip much easier than it used to be and remove much of the uncertainty.
I am aware some may think the uncertain factor is what makes doing a road trip fun, but trust me – getting lost, having your bank details stolen by hackers, or finding yourself without a bed for the night is not fun!
So better living and more fun through technology. Yay! Have a great trip!
Author: Douglas Crawford.