We're sure that most of our readers have heard the legend of Hackney Carriages having to carry a bale of hay and some oats for their horse (and contrary to popular belief, it was dropped from law in 1976), but traffic laws and road legislation in the UK are some of the most comprehensive in Europe, so it's no surprise that many drivers can't quite recall every one of our numerous road signs.
A survey of 22,000 motorists by Halfords Autocentres has revealed that 70% of drivers can't correctly identify the meaning of this sign (right, used for illustrative purposes and may not reflect actual real-life signs).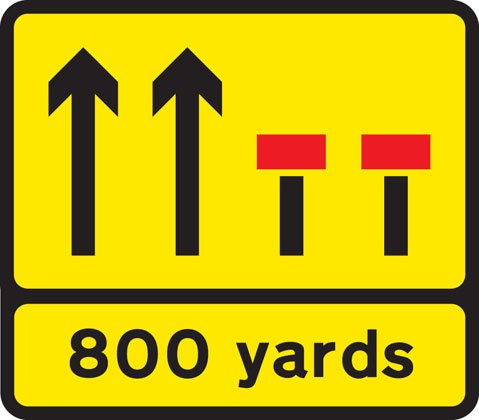 The sign is used on motorways and dual carriageways, it shows that one lane ahead is blocked by an obstruction, but the confusion comes from understanding the next action. Pulling over into the next lane as soon as it's possible is the majority choice, but one that is technically wrong.
What the sign is actually telling you to do is to continue driving in the lane until you've almost reached the merge point, then slowly 'zip merge' into the clear lane, where it's safe and clear to do so. Just 27% of drivers knew the correct meaning in the survey, the last three percent believed that 'straddling both lanes, blocking vehicles from reaching the head of the queue' was acceptable.
Another survey by a national tyre chain also found that one in five road signs are a mystery to the average driver.
The survey by Halfords was carried out as part of a roadworthiness campaign, but the fact that there are typically 85,000 breakdowns each year, with an estimated 40% being preventable isn't what's at interest here, this is more about driver education and habits.
36% of motorists admit to never reading the Highway Code once they've passed their driving test, and 20% of drivers haven't read it within the last decade, is it a wonder that identifying signs isn't at the forefront of their thoughts?
It seems easy to understand a great many of road signs, the ones we see daily are perhaps even ignored, only ever taking notice of ones that are clearly warning of danger, but while we may have a basic understanding of what they mean, could we 100% positively identify the sign and the textbook meaning? It's doubtful.
Some years ago, AutoExpress polled 1,000 readers, 90% thought that driving standards were falling, but only 15% of respondents felt their driving standard had dropped, perhaps a brush-up on the Highway Code could help to change that thinking?
While it's easy to think that the Highway Code hasn't changed significantly, you may be surprised to hear that in the last three years alone, there have been 48 updates to it, including changes to the MOT regulations, learner driver laws and penalties for using a handheld device.
With some organisations calling for more regular eye tests as part of an ongoing campaign to increase road safety, perhaps part of the test should include a brush-up on the Highway Code, or at least the changing road signs to help with awareness of what they all mean and how to respond correctly.
While it could be argued that the sign in question and the lack of knowledge regarding it is purely a case of semantics, the fact is that swapping lanes prematurely could actually increase congestion in the build-up to the blockage, and that's before we get to the highly inconsiderate act of blocking the road so other drivers can't 'queue jump'.
It's frustrating to see other motorists policing the roads themselves, the Police always advise against such actions, and yet drivers continue to act in such a manner. Maybe it's those drivers that should be labelled as un-thinking or selfish, rather than the drivers happily going about their business, in full compliance of the law?
If you're one of the 36% of drivers that haven't read the Highway Code since passing your test, or even if you haven't picked up a copy in the last five years, it could be worthwhile to familiarise yourself with the latest regulations and driving standards.
It's unlikely that anyone will learn the full meaning and action of all 100+ road signs, but it's a useful exercise in updating your own knowledge-base, and who knows, you may learn something new.
Should you wish to take part in the Halfords survey, you can find that here; please note that PetrolPrices has not been paid to endorse this survey, and has no affiliation with the survey or the creators and promoters. We put such links in at the interest of our readers.
Do you think that driving standards are falling? Should the average motorist know the meaning and action of all road signs? Will you share your result from the test? Let us know in the comments.