Have you ever unthinkingly thrown a piece of gum or an apple carcass out of the window whilst driving? Well, you may now find yourself facing a £75 charge if you do so.
The government is introducing this measure in an attempt to reduce the amount of litter on and around the nation's roads. The move is part of the new Government Litter Strategy for England – a national initiative to tackle rubbish in public places.
Seeing discarded rubbish by the side of roads, on pavements and in parks is unpleasant to us all. It also harms wildlife and pollutes the environment.
Waste disposal in the UK has clearly become a problem. The Daily Mail claimed that there were over 900,000 reports of fly-tipping in 2015/2016, with councils spending £50 million a year to tackle the issue. The Woodland Trust called 2016 the worst year ever for fly-tipping.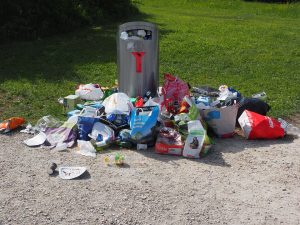 Cleaning up the mess
Earlier this week, the government announced plans to tackle the issue. Environment Secretary Andrea Leadsom indicated that there were plans to serve convicted fly-tippers with community service orders, with cleaning and picking up rubbish used as a deterrent. This is on top of the £400 fine introduced last year.
The government also wants to scrap the charges that some rubbish disposal facilities apply to those disposing of household and DIY waste. Ms Leadsom has labeled the current charges as, "unfair and unacceptable." Cutting them out would make using tips and recycling facilities a more attractive option.
Successive government cuts since 2010 have caused an increasing number of cash-strapped councils to charge residents for disposing of their waste. However, it is actually illegal for council-run tips to charge, so if you are asked to pay to use your local one, be sure to appeal.
The problem is exacerbated by criminals pretending to be waste carriers. They pick up residents' rubbish for a small fee, then dump it illegally somewhere.
The government hopes that the planned changes will slash the demand for these kinds of services, and thereby greatly reduce fly-tipping. Ms Leadsom comments:
"Litter affects us all, harming wildlife, polluting seas, spoiling towns, and giving visitors a poor impression. Our strategy will tackle this by building an anti-litter culture, making it easier for people to dispose of rubbish, and hitting litter louts in the pocket."
Whilst we at PetrolPrices.com welcome the measures to reduce litter, we are skeptical about how effectively these rules will be enforced. What do you think? Are these measures enough?
IMAGE CREDIT: Pixabay (Public Domain).