According to research by findandfundmycar.com driving test pass rates vary for different days of the week. Road use may fluctuate throughout the working week. Mondays can be chaotic with morning traffic and lunchtime rushes, as can Fridays for the same reasons, whereas the weekends might be quieter unless significant events like a football match are on.
Driving and Vehicle Standards Agency (DVSA) statistics show that, surprisingly, Monday is the day you are most likely to pass your driving test, with it having a 49.58% pass rate – just 0.49% higher than the runner-up, Tuesday. In stark contrast, the worst day to book your test is Sunday, with a pass rate of 45.14% – 4.44% less than Monday.
Here are pass rates for the days of the week:
Monday – 49.58%
Tuesday – 49.09%
Thursday – 48.54%
Wednesday – 48.25%
Friday – 47.38%
Saturday – 47.15%
Sunday – 45.14%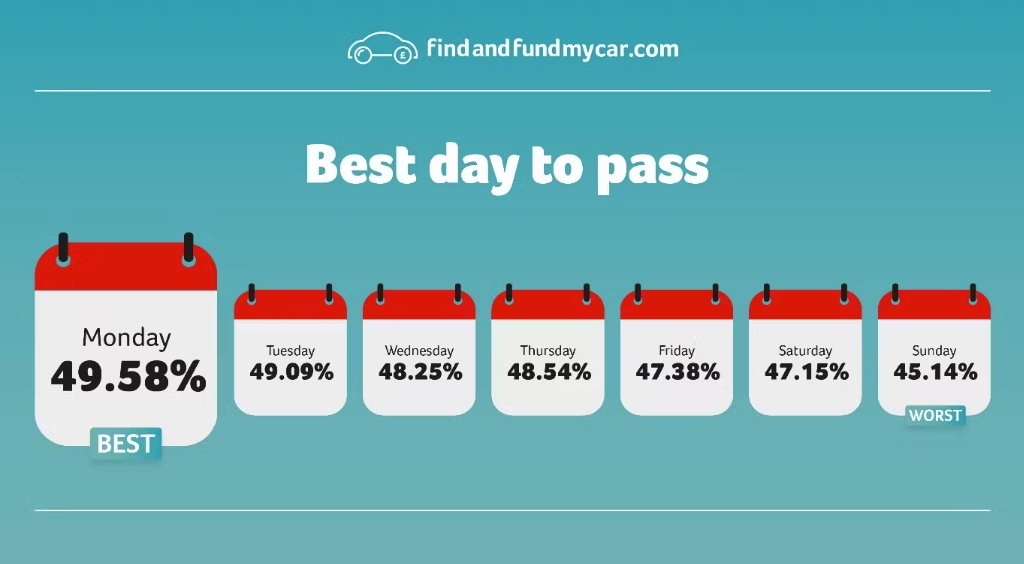 When is the best month to book your driving test?
Statistics from the DVSA point towards April as the best month to book your driving test, while January has emerged as the worst month.
April has a pass rate of 50.19%, with March and May coming in second and third with 49.53% and 48.71%, respectively. On the opposite end of the scale, January has a pass rate of 46.7%.
The list of pass rates is as follows:
April – 50.19%
March – 49.53%
May – 48.71%
July – 48.34%
August – 48.11%
June – 48.01%
February – 47.4%
November – 47.05%
September – 47.1%
October – 46.9%
December – 46.79%
January – 46.7%
Which season is best for booking your driving test?
Due to March, April and May having the highest pass rates, spring is the best overall season for booking your driving test. Spring leads summer by slightly over 1%, while winter and autumn complete the order thanks to a score of 47.59% and 46.81%, respectively.
Here are the results for each season:
Spring – 49.17%
Summer – 48.01%
Winter – 47.59%
Autumn – 46.81%
Which day of the month is best for booking your driving test?
So, we have the best day of the week and month for booking our tests. At this point, we could easily call it a day and claim that any Monday in April would be the best for your driving test – but that's not enough.
For the most significant statistical advantage, we wondered if there was any merit around which day of the month you should be looking to book your test. Spoiler alert, there is.
Across all the possible days of the month, the 24th has come out as being the most successful day for booking your test. The 24th has a pass rate of 49.53%, with the 1st following closely behind with a rate of 49.46%. It's interesting to note that both these days sit on opposite sides of the month, with the remaining days floating around the 47-48% mark.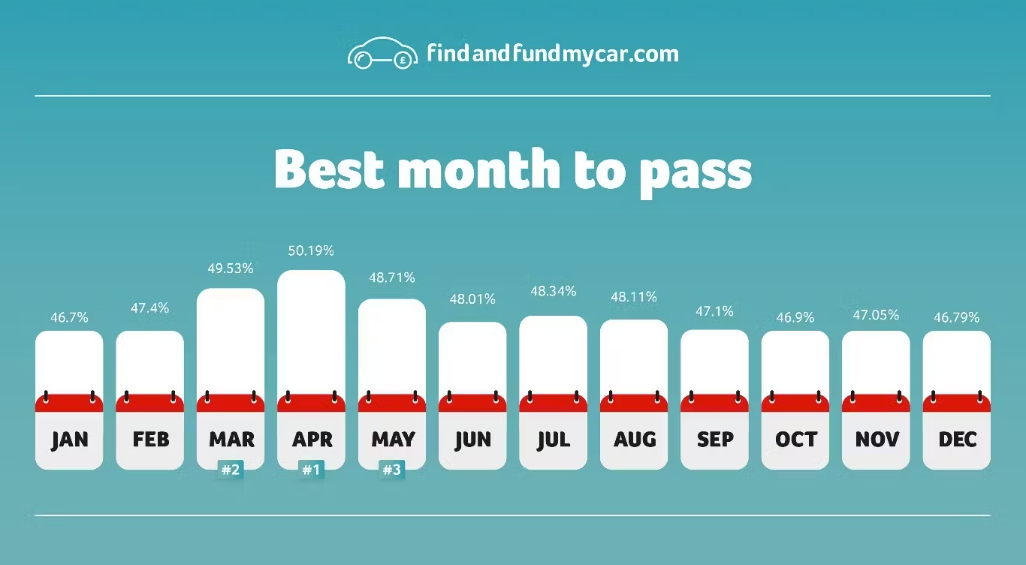 So, which day should I book my driving test?
This information confirms that Monday, April 24th is the most statistically advantaged day for passing your driving test. Of course, this isn't to say that booking your test for this day will guarantee a pass, but it could potentially tip the odds ever so slightly in your favour.
This day and date combination has already gone for 2023, with it not being seen again until 2028 or 2034.
You can find more driving information and guidance from findandfundmycar.com