If you go on a long car journey, a service station is likely to feature as part of the trip – whether it's to use the toilet, stop for a coffee or grab a bite to eat. There's nothing glamorous or luxurious about the service stations around the UK. However, some are certainly better than others. So, what makes a good service station? And which are the best and worst of the bunch around the UK?
Customer survey
Transport Focus, the travel watchdog, recently conducted a survey of some 8,700 customers. It looked at key areas around their visits to service stations, including the food, staffing and those all-important toilet facilities. The results revealed that some of the service stations were rather impressive, while others left a lot to be desired.
Based on the survey's results, the top five service stations in the UK are:
• Reading Westbound M4 (Berkshire)
• Rivington Northbound M61 (Bolton, Lancashire)
• Corley Northbound M6 (Warwickshire)
• Gloucester Southbound M5 (Gloucestershire)
• Gloucester Northbound M5 (Gloucestershire)
At the other end of the scale, the worst five stations are:
• Heston Eastbound M4 (Middlesex)
• Stafford Southbound M6 (Staffordshire)
• Rownhams Southbound M27 (Hampshire)
• Rownhams Northbound M27 (Hampshire)
• Toddington Southbound M1 (Bedfordshire)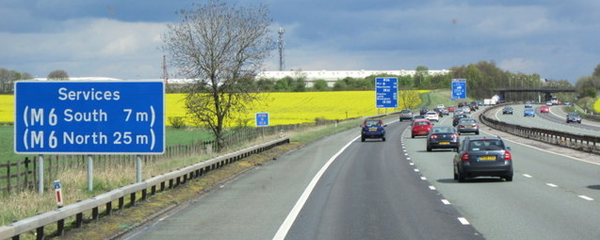 (Credit – Ian S)
What makes best and worst
Heston was rated as the worst in the country. The company that runs it, Moto, pointed out that the survey was done while there were building works going on. That may explain why some people complained about the "very smelly toilets." Heston is also one of the smallest service stations in the entire Moto network and could therefore not provide many of the facilities of larger sites.
At the top of the chart, Reading scored an impressive 100% on its satisfaction survey, ironically also operated by Moto. According to the Transport Minister, John Hayes, service stations should be places for drivers to enjoy, rather than endure. This certainly seems to be the case with Reading's westbound M4 offering, which was praised by reviewers for cleanliness, friendliness of staff and value for money.
Aiming for high standards
The survey asked drivers what they look for in a service station. Obviously, the basics are at the heart of the service – cleanliness, a range of relevant services and facilities and a decent selection of food options. Many service stations now have a number of food outlets under one roof, ranging from coffee shops to fast food joints. Many also offer a supermarket presence, such as Marks & Spencer or Waitrose, for drivers to stock up on essentials for the rest of the journey, conference facilities or hotels. One site (Beaconsfield on the M40) even offers a pub as part of its motorway service station. There's also a trend towards drive through coffee shops in some locations.
Gloucester is one location that ranks in the top five (twice). It sets an example of the way forward for service stations. Instead of the typical fast food outlets, this service station is home to a café and a farm shop. In fact, the food there is so good that it received a nomination for the Best Food Retailer from the BBC Food and Farming Awards. It sources most of its foods from within 30 miles of the station and even provides an on-site butcher.
Sometimes it's the additional features that make the difference for drivers. A lake to sit beside while eating your McDonald's is one example, while a safe playground for the kids to let off some steam is another popular option.
Increasingly, service stations are offering more than just a place to have a burger and a toilet break. No doubt service stations up and down the country will now be considering how they can improve their performance before next year's rankings.
Have you had a particularly good (or particularly bad) experience at a service station? We would love to hear about it – leave a comment below to share your experiences!