Overnight the price of Brent Crude oil rose dramatically in its biggest spike in months. This spike was due to the crisis in Syria and recent chemical weapons attack, which has stoked fears of a major war. As oil traders fretted over the possibility of a stand-off between the West and Russia in Syria, the oil price began to rise and went over the $70 per barrel mark.
The price of oil has a direct effect on the cost of petrol and diesel in the UK. It seems that the destabilising influence and risk of a much bigger war in Syria will mean that we will see an increase in the cost of fuel at the pumps in the coming weeks.
Some context to the situation
When the price of Brent Crude oil increases, the price of petrol and diesel in the UK increases as well. You can see the price charts from OilPrice.com below showing the price over the last week, month and year and the spike that happened last night.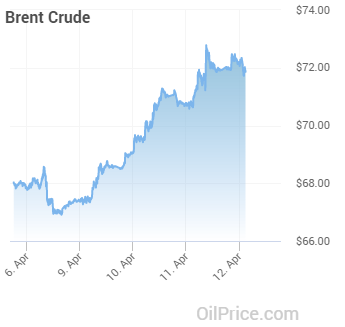 Weekly price of brent crude oil per barrel increase, captured by OilPrice.com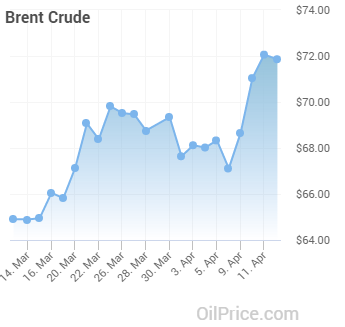 Monthly price of brent crude oil per barrel increase, captured by OilPrice.com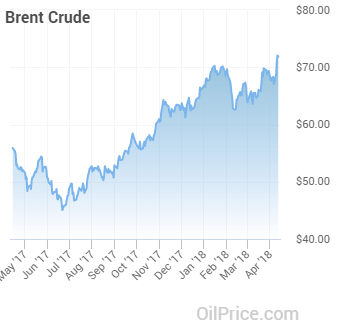 Yearly price of brent crude oil per barrel increase, captured by OilPrice.com
It is produced in a wide range of areas, and therefore a wide range of factors affect the price. When there was an increase in supply in February with the reopening of the North Sea Forties pipeline, there was a slight drop in the price of petrol and diesel 2 weeks later.
Now, as fears mount over military action against Syria, with threats emerging from Donald Trump's twitter timeline, and wonder over what the UK will do, the price of oil remains even more volatile than normal. It is believed that some form of action will be taken, but any form of military action in Syria will drive the oil prices up, and therefore affect our petrol and diesel prices.
What does this mean for drivers in the UK?
Over the next few weeks, it will most probably mean a rise of a few pence per litre at the pump, with industry experts predicting that we could see a rise of around 3p a litre. This rise will directly affect UK drivers, as the price of petrol has already been rising since July last year, and has been consistently hitting the 120 pence per litre mark for four months now.
The expected fallout of this oil price rise will affect motorists over the next few weeks, especially as decisions are made over military action towards Syria. The pump price rise could also be joined by a rise in energy prices if the oil continues to rise. This is joined by the British Gas increasing some of their tariffs by 5.5%, and all of this combines to be unwelcome news for drivers as the Easter holidays draw to a close.
The UK meets today (Thursday 12th April) along with the USA and France to discuss any proposed military actions they will take. They're expected to release statements in the following day or two.
Some industry experts think that a sustained price jump could see prices similar to that of late 2014, around 123 pence per litre for unleaded and 127 pence per litre for diesel, which spells bad news for UK drivers.
Interestingly, OPEC has said that the recent price rises are largely due to stronger demand for oil rather than the threat of a war, or restrictions on production and that prices will continue to edge up slightly. They expect the price of oil to not to exceed the $80 per barrel mark, which roughly equates to a maximum price limit of 130 pence per litre for unleaded and 133 pence per litre for diesel for the rest of the year.
UPDATE: 10:30 am New analysis from the AA suggests that a rise of 2p a litre will hit the forecourts this weekend, and a rise of up to 5p per litre.
A 4p a litre increase in the wholesale price will filter down to forecourts, and as the oil price is not expected to fall below $70 until May.
OPEC has also noticed many blips across the oil-producing regions leading to much higher demand and therefore higher prices.
PetrolPrices will update this article as further developments appear, and we will keep you informed over the next few weeks as to the pump price