Christmas is, according to the song, the most wonderful time of the year. However, it can also be a stressful one, particularly if you're driving a long way to visit family or friends over the holiday period. A combination of Christmas shoppers, people rushing to make their next social gathering and the weather can make for fiery tempers and challenges on the roads. Some of these problems can also lead to points on your licence. As such, PetrolPrices has looked at ways in which we can all enjoy a calmer Christmas behind the wheel.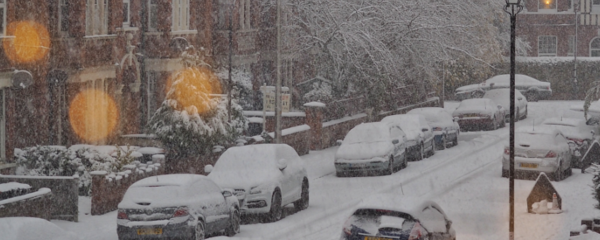 (Credit – Flickr User johnkell)
Avoid tailgating
One of the main causes of irritation on the roads is tailgating, according to the Accident Advice Helpline. The definition of tailgating is 'when one motorist drives too close to the vehicle in front.' This is often seen on motorways, when drivers in a hurry try to force those in front of them to go faster or to move out of that lane altogether.
Not only is tailgating one of the most annoying driving habits, many drivers don't realise that it is against the law. Tailgating can land you with a fine of £100 and three points on your licence, but research by Confused.com shows that one-third of drivers don't realise that this activity is illegal. The Confused.com survey also found that over 80% of drivers have been the victim of tailgating at some point, while more than 25% said they have experienced it as often as once a week.
After tailgating, other particularly annoying driving habits include drivers who don't signal ( which irritates 72% of motorists), people texting while driving (57%) and people who leave their lights on full beam (55%). The findings show that if all motorists simply obeyed the rules of the road this Christmas, the winter driving experience would be a much calmer one!
Dealing with snow
Another common issue at this time of the year is snow. Unfortunately, many motorists don't realise that you can get into trouble for not cleaning your car properly before you set off on a journey. Most are aware that you can get a fine for not clearing ice from your windscreen before travelling. However, many aren't aware that driving with snow on your roof can result in a fine of £60.
Doing so can also see you get three points on your licence under Section 229 of the Highway Code. It outlines how a car should be prepared for driving, including:
• Being able to see
• Clearing snow and ice from windows
• Ensuring the lights and number plates are clear
• Ensuring that all snow that could fall off into the path of other drivers is removed
The last point is the one that can get you into trouble. If snow comes off your roof and hits a car behind you, obscuring their vision of the road, you could receive a fine of £100. So be sure you clear all the snow from your car before setting off!
Enjoy the roadwork amnesty
Another big cause of frustration and stress on the roads over Christmas is the many roadworks that slow down our festive journeys. This year, however, Highways England has said that it will be removing some 400 miles of roadworks over the Christmas and New Year period, to help ease the situation and make for less stress on the roads.
The roadworks embargo will be enforced from 06:00 on 22 December 2017 until 00:01 on 2 January 2018 to help people go about their Christmas business with as little disruption as possible. This will mean that 99% of journeys on motorways and trunk roads will be free from roadworks over the busiest days of the holiday period.
There will also be some 5,000 staff on hand, ranging from officers to control room workers, to help deal with incidents on the roads and to manage congestion. The Highways Agency aims to have the network running at peak capacity to reduce stress and make for a calmer time on the roads this Christmas.
Of course, this doesn't just benefit drivers – road work crews will no doubt enjoy having a few days off to spend with their families and friends. It will also be a move welcomed by hauliers and delivery firms working over the last few days leading up to Christmas, as well as the busy sales period between Christmas and New Year, to help deliver their parcels more easily.
How do you plan to reduce road-related stress over the holiday period? Will the absence of roadworks encourage you to travel further afield? Leave a comment below to share your plans.