With the price of pretty much everything rising right now, many of us are looking for ways we can save money on our expenditures.
One cost you may be considering is whether you actually need breakdown cover for your vehicle.
Do I need breakdown cover for a new car?
Most brand new cars usually include breakdown cover for a certain period (usually between one to three years).
However, some nearly new but used cars will not include breakdown cover as some car manufacturers don't let the breakdown cover transfer with the car, whilst the purchase of many used cars will not include breakdown cover as standard.
Whether you have recently purchased a vehicle and are contemplating buying breakdown cover, or you are wondering whether to renew your current vehicle breakdown cover when your policy runs out, one of the UK's leading breakdown cover providers, Start Rescue is encouraging drivers to consider their options carefully.
The importance of breakdown cover
Start Rescue, is urging motorists to consider the cost implications, should they suffer a breakdown without suitable cover in place.
Lee Puffett, Managing Director for Start Rescue explains: "Whether you're on a motorway, in town, out in the countryside or even at home, breaking down is stressful.
If you don't have breakdown cover, it can be expensive to sort out. Towing fees, repairs – even overnight accommodation – the costs can quickly add up.
Having breakdown cover not only offers peace of mind that you will be rescued in the event of a breakdown, but you'll also be covered for some or all of the additional costs associated with breaking down, depending on the policy you buy."
Shop around for breakdown cover
With this in mind, rather than taking the chance and cutting your breakdown provision entirely, why not shop around for an alternative provider to your current breakdown company, which could save you money instead.
Did you know there are different types of breakdown providers?
Not all drivers are aware that there are two main kinds of vehicle recovery providers operating in the UK today.
Aside from the motoring associations with their own fleet of vehicles and employees, breakdown recovery providers also exist who operate by harnessing a UK-wide network of independent vehicle recovery operatives (VROs).
As with motoring associations, members of these vehicle breakdown organisations contact the provider's call centre, which then locates the nearest specialist operative and sends them to the scene of the breakdown.
In practice, both types of breakdown providers aim to get you back on the road as quickly as possible.
However, operators who run their own fleet (motoring associations) may not always have a vehicle near a particular breakdown scene, which can increase the wait time for customers
Breakdown cover providers such as Start Rescue work directly with carefully selected and experienced recovery operators across the UK. Through operating such a model, they have the connections to despatch an experienced recovery operative quickly – one who knows the local area well and is ideally placed to get you back on the road as soon as possible.
Are you getting the best value for money with the AA, RAC or Green Flag?
For a service that hopefully you won't have to use many times in a year, are you sure you are getting the best price for breakdown cover from your current provider?
What breakdown cover do I need?
As you're no doubt aware, breakdown cover providers generally offer varying levels of cover, to meet your personal needs for your breakdown cover.
Which? Recommended Provider, Start Rescue, has affordable breakdown cover options which include unlimited callouts, misfuel cover and accident recovery all as standard. Their most popular 3 Star cover option has been rated five stars by Defaqto. Their Three Star cover also includes Home Assist, so should your vehicle not start at home, they will be able to come and assist you. In comparison to competitors, Start Rescue policies can offer you considerable savings.
Breakdown cover price comparison based on 3 Star Cover*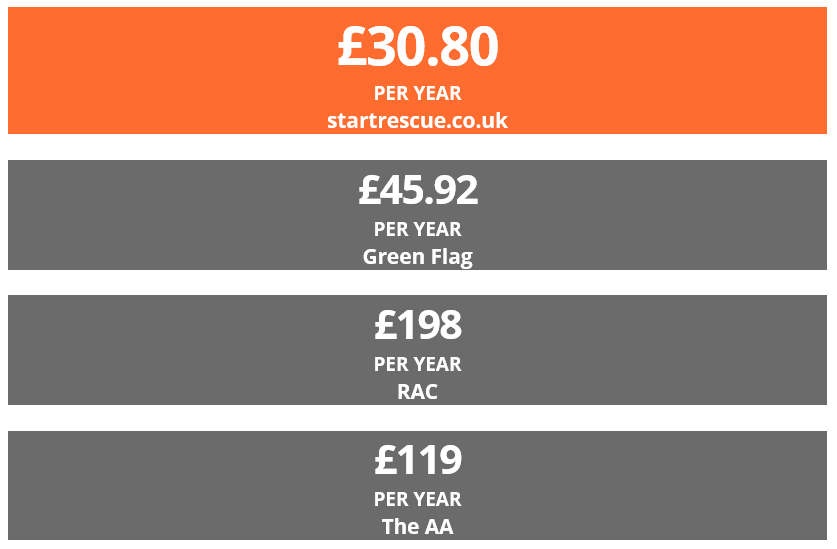 Wondering 'Do I need European breakdown cover?'
Perhaps you're planning a trip across the Channel this summer and thinking 'do I need breakdown cover in France?'
Whilst, as in the UK, breakdown cover is not compulsory for driving in France or other European countries, should you suffer a breakdown, the peace of mind from having European breakdown cover in place can prove invaluable.
Start Rescue's Four and Five Star policies include European Cover as well as UK Nationwide recovery, covering you in over 40 countries.
How good is Start Rescue's Breakdown Cover?
As well as saving you money, Start Rescue's affordable policies are also backed up by an impressive level of service.
Testimony to the value and reliability a Start Rescue breakdown cover policy can provide customers, is the fact that the company is rated as excellent on Trustpilot and has been a Which? Recommended Provider for breakdown cover 2019, 2020 and 2021.
Start Rescue's cheapest policy starts from just £19.75** per year, so at a time when we are all trying to save money, this seems like the right time to compare your current provider and see if Start Rescue can beat it.
* All competitor prices have been based on Start Rescue's most popular 3-star level of cover for a vehicle aged up to 5 years-old. Cover includes nationwide recovery, home assistance, alternative transport, overnight accommodation and key assist. Last updated 30/06/2022.
** The price of your policy will depend on the age of your vehicle and the level of cover you choose.