A comprehensive study of Britain's most congested roads has found that motorists spend an average of ten days a year stuck in traffic.
Researchers from the Admiral insurance company considered travel times for different routes into 13 major cities around the country. Each city was then ranked by the increase in journey time caused by traffic congestion.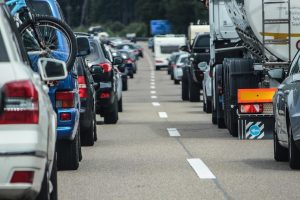 They compared the statistics from 9 am on a Monday, when the roads are traditionally at their busiest, to a Sunday at the same time, when they are at their quietest. They used this data to measure the difference in travel time on congested versus empty roads.
The Admiral study follows on from research by traffic information company Inrix, which found that the UK is the third most congested country in Europe. The Inrix data found that direct and indirect costs of congestion in Britain in 2016 totalled £31 billion, equating to an average of £968 per driver.
Traffic congestion by region
The Admiral research showed that traffic congestion in the UK is a major issue, with the average driver spending ten days per year stuck in queues. Driving at peak times in London increases this to 17 days per year. For those unlucky enough to commute from Dartford to Trafalgar Square, it rises to a staggering 28 days. Cyclists now beat cars on almost every journey in the capital during peak periods.
Manchester was second on the list for highest average travel times. Travelling on the busiest routes in the city will cost you an extra 45 minutes every day, amounting to 13 wasted days a year.
Of the 13 major UK cities studied, Glasgow was the least congested. Travelling at peak times in Glasgow costs the average driver an extra 23 minutes per day, amounting to seven days per year.
Travel at the right time
Driving at the wrong time of day is sure to make any journey significantly longer. A spokesperson from Admiral says,
"Drivers are losing an average of ten days a year sitting in their cars during rush hour, with journey times tripling on some routes.
"In the UK's capital, the difference between Sunday and Monday morning added up to commuters spending three times as much in their vehicle, equating to 398 hours, or 17 days per year of time.
"These figures confirm what motorists have long suspected – that they spend a huge amount of wasted time sitting in their cars."
Motorists are also "more likely to be involved in an accident" by travelling at rush hour, with "rear end bumps" being the most common type. The advice is to consider starting your journey and working day earlier or later. Doing so could mean your time is spent a lot more productively.
The concept of driverless cars and 5G access on Britain's roads could not come soon enough, with cars potentially becoming the "new home or workplace" for many drivers stuck in traffic.
What is your experience of congestion times around Britain's major cities? Do you think the government needs to tackle this or should it be focusing on other issues? Let us know in the comments.