According to insurance giant AXA, the UK doesn't have the infrastructure in place to cope with the growing numbers of electric cars on the road.  A shortage of charging points, as well as the strain on energy supplies the new demand creates, may be acting as a barrier to the rise of driverless electric cars, say the insurer.
Practical problems
In fact, concerns about the lack of places to charge these cars and how the National Grid will cope with the extra demand have overtaken worries around liability and technical questions holding up the advance of driverless cars.
Amanda Blanc, the UK boss of the company, is herself the owner of an electric Tesla car and recounted some of the problems she has seen.  There is around 125,000 plug-in electric cars on the UK roads – and just 14,000 charging point.  Only 2,620 of these are rapid charges that supply 80% of power in just half an hour.  Shell has just opened their first charging points for electric cars in 10 filling stations, mostly in the south-east and London.
During a recent long-distance trip, Blanc demonstrated the issues.  On a trip to Edinburgh, she stopped twice to use a supercharger but went for coffee while the car charged.  She pointed out that in 3-4 years, people will not want to queue for a supercharger and infrastructure is needed to solve this problem.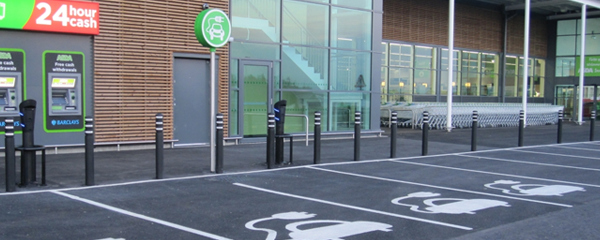 © Copyright Glen Wallace and licensed for reuse under this Creative Commons Licence.
Electricity supply concerns
Another big worry is that the strain on the electricity grid.  According to National Grid, the growing number of electric vehicles could see electricity peak demand jump by more than the capacity of the Hinkley Point C nuclear power station by 2030.
Blanc made an example – if everyone pops out during the break in Coronation Street to put the kettle on, there's a surge.  But what will it be like when everyone comes home from work around 6 pm and puts their electric car on to charge?
AXA is one of the biggest backers of self-driving and electric cars, and Blanc believes children born today won't need to learn how to drive.  She foresees everyone driving around in 'robo-cars' that will reduce pollution, be cheap to run and give mobility to everyone, not just those who can drive.
Norway example
A leading example of the switch to electric is Norway.  The Scandinavian country sees more than 50% of all new cars sold, being either electric or hybrid, as the country positions itself as a pioneer in the carbon-free transport world.
Zero emission vehicles, mostly electric, accounted for 20.9% of all sales in 2017.  Hybrid cars were 31.3% of all sales, including 18.4% for the plug-in hybrids, they announced.  It is an increase from 15.7% and 24.5% for the previous year, and positions the company at the forefront of electric road transport.
It comes despite the country being the most significant producer of oil in western Europe.  It has set a goal of selling only zero-emission cars from 2025.  Electric vehicles also benefit from a generous tax system to make their purchase price very competitive, and owners benefit from free city tolls, ferries, parking and recharging in public car parks.  They can even drive in bus lanes, although some measures are intended to be reduced soon.
The liability question
Another big hurdle to overcome regarding driverless cars is to come up with a solution around liability, when a car is in driverless mode.  Previously, insurers were uncertain who would be liable when a driverless car was involved in an accident, but a draft bill from the government will clarify the issue, removing another potential block.
It will mean that insurers will automatically pay out if a motorist crashes a car in self-drive mode with the question of whether man or machine was to blame being sorted out between underwriter and car maker.  It frees up the further development of this type of vehicle.
Do you agree that the UK may not be ready for an electric overhaul? How long will it postpone the surge in demand? Let us know in the comments below.