If you are going to be visiting friends and family over the Christmas period, or are heading away for a festive break, you may want to keep your eyes open for what the RAC are calling 'Frantic Friday'.
Studies carried out by the RAC have suggested that Friday 22nd December will see commuters making their way home from the final day at work and combining with an estimated 1.25 million leisure drivers, all to create widespread congestion across the UK.
Peak times
It is thought that the busiest time to travel on Frantic Friday will be between 4pm and 8pm, RAC traffic spokesman Rod Dennis stated people should avoid driving at all if possible.
The highest number of leisure journeys is expected on Christmas Eve with 1.87 million journeys being taken as people head to wherever they will be spending Christmas Day, and there will be an estimated 11.5 million leisure trips taken between the 17th and 24th of December.
However, this will be topped almost immediately by a massive 17.5 million journeys being made between Christmas Day and New Year's Day as people begin heading home or to the shops to pick up the latest bargains in the post-Christmas sales.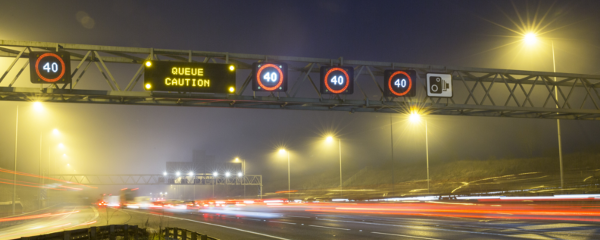 (Credit – Highways England)
Roadworks Embargo
To try to alleviate congestion over the festive period, Highways England will be lifting around 400 miles of roadworks so that motorists are not held up, allowing the natural flow of traffic to improve along motorways and major A roads. However, it may only take a broken down vehicle or an accident to cause severe tailbacks, so keep up to date with local radio stations or check before you travel using The AA Traffic News.
This roadworks embargo will be in place from 6am on Friday 22nd December to Tuesday 2nd January so should hopefully help to keep people moving for the whole festive period, including Frantic Friday.
Seeking an Alternative?
Despite Highways England maintenance embargo, planned strikes and engineering works on railways will still be taking place. London is widely-understood to be the worst affected, however, widespread service reductions following strikes may wreak havoc variety across the UK's Rail system.
It isn't all doom and gloom though, helping out those who may not want to drive over Christmas are National Express who have announced their largest ever Christmas schedule, this is to combat an expected increase in demand across a large number of locations, including; Cardiff, Leeds, Bournemouth, Bristol, Glasgow and Manchester. In fact they will be offering 30,000 extra seats from 18th December to 2nd January, so perhaps worth considering!
If possible, look to avoid using the roads during this very busy time of year, skip the frustration of long tailbacks, plan sensibly and start enjoying your Christmas break.
What do you think about "Frantic Friday"? Are you going to be braving the roads that day or do you have other plans during the festive period? How do you intend to avoid getting caught in traffic over the holiday period? Let us know in the comments below.