Petrol and diesel prices are set to rise by 3p a litre before Christmas due to a "perfect storm" of problems with UK supply caused by pipeline damage, a gas refinery explosion in Austria and OPEC's decision to reduce the amount of oil produced globally by extending production cuts.
These factors have led to an increase in the wholesale price for gas which is now it at its highest since 2012 (73.7p per Therm) and the crude oil price at its highest level since 2015, ($65.72 per barrel). An expected 3p a litre increase is an extra £2 per fill up on a normal family saloon car, the impact on gas prices is not expected to hit us domestically in our energy bills for about 6 months in the future.
Ineos pipeline damaged
The shock damage of the North Sea Forties Pipeline near Aberdeen came after a routine inspection found a hairline crack, which led to a reduction in the supply of oil from the North Sea. The pipeline normally pumps half a million barrels of oil into the UK a day and is one of the biggest sources of oil, which is refined and turned into petrol and diesel.
Owners of the pipeline Ineos said in a statement."Ineos has mobilized a repair and oil spill response team following the identification of a very small amount of oil seepage during a routine inspection of the Forties Pipeline System at Red Moss, near Netherley, Aberdeenshire, at approximately 10:00 hours yesterday (6 December 2017). We will work to resolve the issue and monitor the situation. We apologize for any inconvenience caused."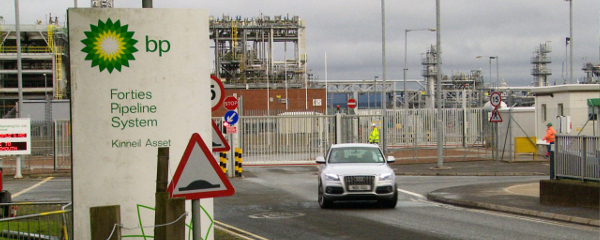 Austrian gas plant explosion
A few hours later, an explosion at a natural gas facility near Austria's border with Slovakia left one person dead. A further 18 people were injured in the morning blast at the plant in Baumgarten an der March, east of Vienna, regional Red Cross official Sonja Kellner said.
"The explosion set off a fire, which operator Gas Connect said was contained by midmorning. The facility was shut down", Gas Connect spokesman Armin Teichert said. Police wrote on Twitter that the situation "is under control."
There was no immediate word on what caused the blast at the plant, where pipelines connect and gas from Russia, Norway and other countries is compressed before travelling into Europe.
OPEC agree to further cuts
The oil and gas markets were reacting to the accidents while also considering the longer term implications of OPEC's decision to extend production cuts that was made at the start of December. All factors together led to a further increase in the price crude oil that was already rising in the months earlier. Crude oil surged by 7.6 per cent between October and November, reaching its highest level since December 2016, according to the Office for National Statistics (ONS).
Pump prices are now expected to surge from 120.76p a litre to 123.21p a litre for unleaded while diesel leaps from 123.21p a litre to 126.21p.
How to keep fuel costs down
PetrolPrices has said this advice many times, we're not sure if you're reading it still but we're going to say this again because we don't want any of you to overpay for fuel.
It's now more important than ever to make sure that you use our cheap fuel locator to always know you are buying the cheapest fuel near you, via website or price alert email. Use our app in unfamiliar locations, especially on motorways or major trunk roads, you can save literally 20p a litre by coming off the motorway and going to the cheapest station nearby by using our app, but do not use the app while you are driving.
Fuel pricing is based largely on fuel duty, the wholesale price of oil and the competition around it. If an ASDA supermarket that sells fuel is near you this will keep the prices of other stations nearby lower because of their "price promise" of being the cheapest supermarket within 3 miles.
If you are willing to drive a few miles, less affluent locations with large clusters of supermarkets tend to have lower prices than more affluent locations. Locations near refineries tend to have lower prices, medium sized towns tend to have lower prices versus rural or highly urban locations. Finally, supermarkets often have deals where they will provide money off if you spend a certain amount at the store. Always check your supermarket and ask them what deals they have.
What do you think of the expected increase in fuel costs just before Christmas? What methods are you using to make sure you keep your fuel expenditure under control? Let us know in the comments below.