A public information request from 45 police forces across the UK has revealed that since the government announced stricter laws coming into force in March last year, just over 30,000 Fixed Penalty Notices (FPN) for mobile phone use at the wheel were handed out in comparison to the 45,000 from the previous year.
What seems to be the most worrying aspect of this public information request is that while penalty notices have decreased, this would indicate that mobile phone use at the wheel has gone down because drivers are more worried about getting caught.
However anecdotal information suggests that the cause of the decrease is more likely to be because there are fewer police on Britain's roads and that mobile phone use in cars is still happening as much as ever and that the lack of police on the roads to catch people out is why the figures have decreased.
The new fixed penalty notice
The new Fixed Penalty Notice for being caught using a mobile phone while driving has doubled from £100 to £200 and the number of points added to your license from 3 points to 6 points. On the surface, it appears from the number of fines issued that the increased fine and the number of points on a license has drastically reduced the number of people using a mobile phone at the wheel.
Drivers who receive 12 points on their license in three years, or six points for the first two years of driving, face having their license revoked. As reapplying for a license and passing both tests is costly, the risk of using a mobile phone should deter many who are at risk of an immediate driving ban.
During the year over 500 novice drivers had their license revoked for using a mobile phone behind the wheel. And as part of a national crackdown in the last week of January this year, a further 2000 people were found on their phones while driving, of which 74% were male.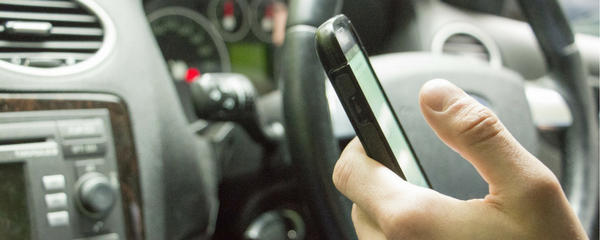 Police resources stretched
In March 2017, when the new regulations were introduced, the government saw more than 8,500 drivers caught as traffic police increased a crackdown on mobile phone use. In December 2017, around 1,400 drivers were caught as the police focused their attention more on drink driving, which is seen as equally as dangerous and a leading cause of accidents. However, the fact that mobile phone detection fell in December indicates that police are already stretched to capacity and cannot focus on tackling drink-driving and mobile phone use at the same time.
Statistics falling but mobile use isn't
Road Safety Minister Jesse Norman MP said "The penalties for holding and using a mobile phone while driving have proven to be a strong deterrent, and more and more people are aware of just how dangerous this is. But some motorists are still not only putting their own lives at risk, but the lives of others. Everyone has a role to play to encourage drivers to put their phone away and not use it while at the wheel."
While it is encouraging to see the statistics fall, it is also not good to see that there are still many people using their phone while driving. When driving, safety should always come first and should never be comprised. All it takes is one second for your eyes to flit down to your phone for something horrific to happen. As Jesse Norman says above, everyone needs to play a part in stopping drivers from using their phone behind the wheel.
Even stricter consequences
Some experts are calling for even stricter consequences that would act as a "shock tactic" to get drivers to stop using mobile phones in cars for good, the same as when you are caught drink driving you receive an instant driving ban.
Driver distraction from a mobile phone has shown to be as dangerous as drink driving, the logic is that if it can have the same impact as a drunk driver why don't the police tackle it in exactly the same way?
Do you think the new laws have helped? Should the government make laws to catch and punish mobile phone use even stricter? Let us know in the comments below?