Despite a crackdown by the government, hospitals made a massive £175m in parking charges in 2017, a new record for a twelve-month period. They also made nearly another £1 million from parking fines, an increase of 30% on the previous figure, though some sources believe this number is nearer £4 million. Worst of all is that over 50% of them still charge disabled patients to park in the car parks.
Making money
According to a Freedom of Information request by This Is Money, the highest charges in the country are in Guildford at the Royal Surrey County Hospital. The hospital charges £4 an hour for people to park. Another 14 hospitals around the country charge at least £3 an hour including Northampton General at £3.20 and Southend University Hospital at £3.10.
Previously, Health Secretary Jeremy Hunt had admitted that the fees were 'unfair' and three years ago introduced guidelines that urged NHS trusts to offer free or reduced parking for the disabled, cancer patients, relatives and staff. However, the instructions weren't legally binding and were ignored by many trusts who wanted the vital source of income from parking fees.
&nbsp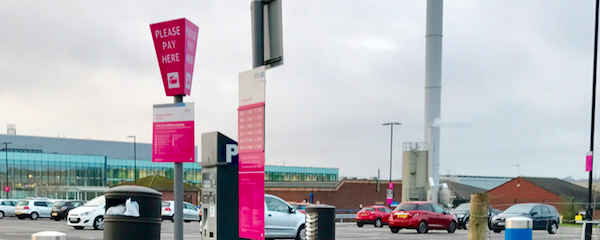 © Copyright Jonathan Hutchins and licensed for reuse under this Creative Commons Licence.
Tax on sickness
According to Lib Dem Health Spokesman Norman Lamb, the hospital parking charges amount to a tax on illness, people who are chronically ill or disabled being the ones who must pay the most. This shows the hidden cost of healthcare for many people around the country, said Mr. Lamb.
Labour Health Spokesman Jonathan Ashworth added that hospital parking was 'entirely unfair' and an unnecessary burden that affected the most vulnerable people in society who needed to use hospital services frequently.
Even Jeremy Hunt admitted that the outrageous practice was a 'stealth tax' but the under funding of hospitals meant that trusts were left trying to make money from patients to compensate.
Top Earners
The five most expensive hospital car parks in the country made an impressive amount of money from their charges. The Royal Surrey County Hospital, top of the list regarding the hourly cost, secured over £1.5 million last year while Northampton General, charging a little less, made more at £1.67 million.
Southend University Hospital made just over £1.8 million and Royal Free Hospital in North London over £2 million, charging £3 an hour. Another big earner was the Aintree University Hospital in Liverpool charging £3 an hour making a staggering £2.67 million.
Enviable rise in income
Figures from 111 of the 150 hospital trusts around England showed that they made £174.5 million in parking charges in the 2016-17 period, an increase of 6% on the same period the year before. Of these trusts, 56 said disabled patients were charged for some or all their designated spaces.
The Heart of England NHS Foundation Trust made the most money during the period, over £4.8 million. In fact, two-thirds of trusts had made more than £1 million for each of the last three years. Car parking in Scotland and Wales are mostly free.
Paying the price
One example is a woman who donated her kidney to her sister through The Heart of England trust. It costs her family £30 a day to visit her sister who has been on dialysis for two years and sometimes, they cannot afford to visit her due to the parking costs. Another example is patients visiting for 10-minute appointments who end up paying for two hours on a regular basis.
A spokesman from the Heart of England said that the trust does profit from car parking charges but uses the money made to fund utility costs, security and a parking management service as well as for the upkeep of the car park itself. Other hospitals have a similar justification for the charges in place.
The Department of Health continues to insist that trusts alone are responsible for what they charge and what they do with the money.
What do you think of local health authorities literally "cashing in" on the sick and old who have no choice to park there? Are the Government doing enough and if not what action do you think can be taken? Let us know in the comments below.