West Yorkshire police issued more than double the amount of speeding tickets compared to any other police force in the UK, according to freedom of information data supplied by 19 different police forces to car leasing firm, UK Carline.
In total 142,610 speeding tickets were issued in 2017 by West Yorkshire Police, which was more than double number two on the list. Surrey Police issued 62,623 speeding tickets, followed by West Mercia on 62,503 speeding tickets.
West Yorkshire Police also hold the record for the highest recorded speed offence in 2017, catching a driver at 160 mph on a 70-mph speed limit road, more than double the national motorway speed limit. Dundee Police clocked an offender driving at 106 mph in a 30-mph speed limit, which is more than three times the national speed limit.
Freedom of information request
Car leasing brand, UK Carline submitted a freedom of information request to all 43 UK police forces. Of those who were contacted, 19 police forces answered back and provided detail on the total number of speeding tickets issued and the highest recorded speed offence during the same 12-month period on 70 mph roads and 30 mph roads.
This means that the information supplied does not display the full picture across the whole of the UK, but 19 police force responses does provide a good representative sample of volume of tickets and speed limits broken and at what level.
West Yorkshire's speed cameras recorded 46 times as many drivers exceeding the speed limit than the police force with the lowest number, The City of London police force with 3,107 tickets issued in 2017.
The rate of speeding offences year on year rose by 13% in West Yorkshire, 24% in Surrey and a huge 32% in West Mercia, which is a sharp increase that some experts believe is partly due to better detection on smart motorways and the due to the introduction of the new 20 mph speed limit in built up areas that is catching drives out who are not aware of the changed zones.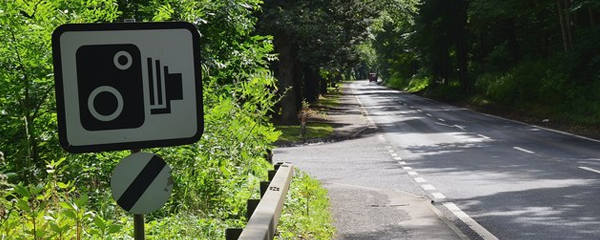 © Copyright Jim Barton and licensed for reuse under this Creative Commons Licence.
Police forces with most speeding tickets issued in 2017
1. West Yorkshire – 142,610
2. Surrey – 62,623
3. West Mercia – 62,503
4. Dundee – 60,465
5. North Wales – 57,224
6. Kent – 53,590
7. Lancashire – 51,455
8. Humberside – 49,982
9. Norfolk – 49,730
10. Dorset – 45,344
Top speeds clocked in 70mph zones
1. West Yorkshire – 160mph
2. Surrey – 150mph
3. Kent – 150mph
4. Lincolnshire – 149mph
5. Dundee – 148mph
Top speeds clocked in 30mph zones
1. Dundee – 106mph
2. West Yorkshire – 102mph
3. Dorset – 96mph
4. Warwickshire – 95mph
5. Gwent – 94mph
[Source: UK Carline FOI request to 43 police forces – 19 forces responded]
Speed awareness courses on the rise
New information supplied by the National Driver Offender Retraining Scheme has shown that the rate of speed awareness courses attended in the UK has increased by a massive 330% year on year and earned the police an additional £57 million, which according to NDORS is largely due to new 20 mph low speed zones in built up areas.
The vast increase in drivers caught by low-speed zones has more than doubled the rate of drivers on awareness courses who choose a course and avoid paying a fine and 3 points on the licence. If, however they are caught again within 3 years the fine and points are retrospectively applied.
Recent changes to the fine system now mean that it depends on two factors, the first depends on your weekly wage and the second is the circumstances within which you were caught speeding.
Using this new approach to fines means a fine is on a sliding scale that could be thousands of pounds and extra points depending on the severity of the speeding offence. It really is the worst time to get caught speeding on Britain's roads. However, the good news is that there are some things you can do about it to make sure you drive in a more sensible way and minimise the chance of getting caught speeding.
How to protect your licence and have better driving habits
The most obvious thing to do is slow down and drive at or under the speed limit, which of course is what we should ALL adhere to as often as possible. But this is not always a practical course of action, especially if you are driving in an unfamiliar location and you don't know the speed limit or the location of cameras waiting to catch drivers out.
You may be driving on a UK motorway at the national speed limit of 70 mph, but this would cause congestion when all other road users are driving at 80 mph or more. This may encourage you to exceed the speed limit to stay with the traffic flow. Smart motorways with variable speed cameras are now operating and change the speed limit often, which can also catch drivers out unwittingly when it changes.
Using a speed camera detector is an inexpensive way of knowing the speed limit at all times and they make you aware of the location of speed cameras from a database of known static locations and mobile van locations. But that doesn't always work. About 30% of speed cameras are not in operation and police officers may be using a radar gun or mobile van with a laser system in a new location that isn't on a GPS database.
Drivesmart have launched a speed camera detection product called Alpha. It combines GPS database data with radar and laser detection up to 800 meters away of any forthcoming historic speed camera location or a radar or laser system in use ahead of you.
Using a speed camera detector like Drivesmart Alpha improves the driving habits as it makes drivers slow down way before reaching speed camera locations rather than braking sharply and causing risk to other road users.
PetrolPrices has agreed an exclusive 28% discount (£50 off) the new Drivesmart Alpha for members, which is one of the best speed camera detectors in the market at the moment.
Click on find out more to see details of this great member offer.
What do you think of speeding tickets and how many are issued? Were you caught recently and did you choose a speed awareness course to avoid a fine and points? And what are your thoughts on speed camera detection systems. Worth buying for peace of mind or not worth it? Let us know in the comments below.