Hydrogen Filling Station UK Network Development
Two hydrogen pumps are included in plans for a service station development submitted by the forecourt dealer group Euro Garages to Aberdeenshire Council. The company has applied for planning permission for a service station adjacent to the A90 comprising a petrol filling station, EV charging and hydrogen refuelling.
A planning statement with the application states that the hydrogen refuelling station will be supplied by Element 2, a UK company aiming to develop a network of hydrogen refuelling stations across the UK. The statement adds: "Element 2 see the application site as being a strategic location for the provision of a hydrogen refuelling station as it is located on the main road transport route from the central belt to the north-east of Scotland, passing through the major cities of Dundee and Aberdeen. This will be one of a few hydrogen refuelling stations in the UK that can serve both HGVs and cars….The refuelling area will comprise two refuelling bays located under a canopy, accommodating two vehicles, with space behind the bays for additional queueing vehicles."
The new site in Aberdeenshire follows the Euro Garage group's investment of £25m in a UK company developing a hydrogen fuel cell heavy goods vehicle (HGV) in October of last year. HVS (Hydrogen Vehicle Systems Ltd) has already completed its first hydrogen medium commercial vehicle (MCV) prototype and is well underway in developing its second flagship HGV.
The two companies said they aim to advance the UK government's declaration to become the first country in the world to commit to phasing out new non-zero emission HGVs. With their partnership, they said, EG Group has the potential to provide hydrogen refuelling infrastructure nationwide. At the same time, HVS offers zero-emission freight vehicles, working together to bring hydrogen to the market.
EG Group initially invested £5m into HVS in 2021 and has now injected a further £25m.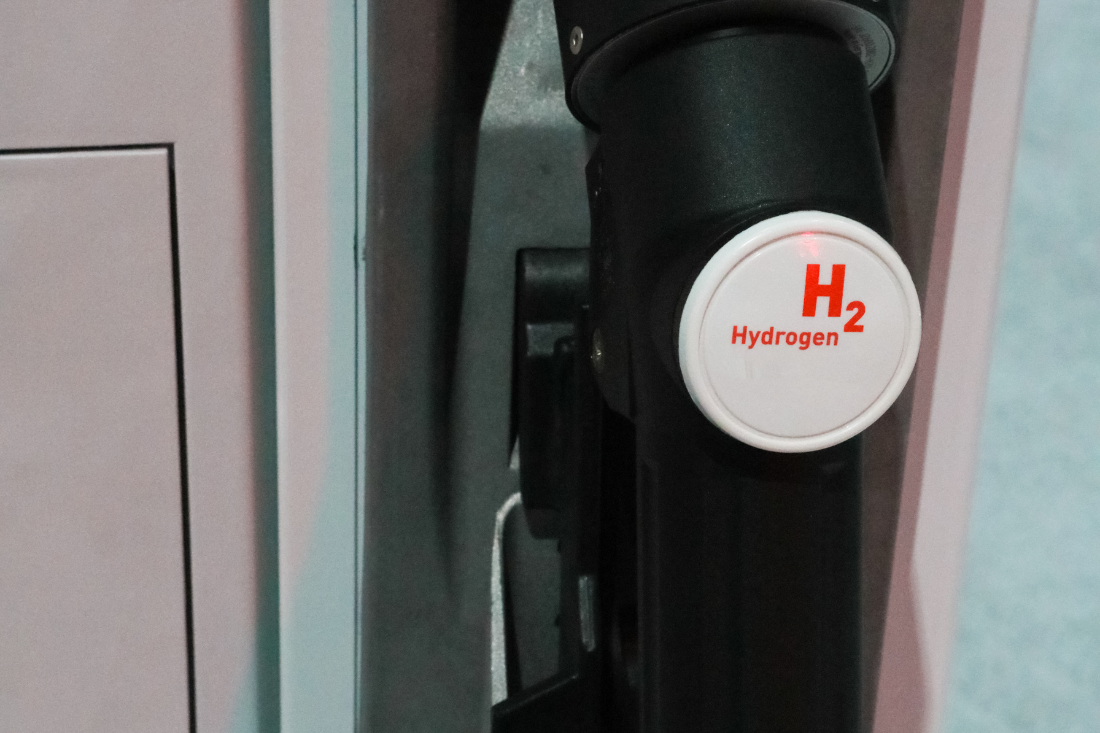 The UK Hydrogen Refuelling Market
There are currently 15 hydrogen filling stations in the UK. An earlier government and industry forecast estimated there would be 65 refuelling stations in Britain by 2020, a plan that has not been met. However, there have been some developments in recent months that have highlighted a more confident and expansionist mood for hydrogen enthusiasts.
The UK will have a nationwide network of hydrogen refuelling stations operational at the end of this year as plans by British start-up Element 2 take effect. The initial push is to service heavy trucks and light commercial vehicles, but private cars like the Toyota Mirai, Hyundai Nexo and the new BMW iX5 Hydrogen will be able to use Element 2's pumping technology.
Trucks and buses are the number-one priority for Element 2's hydrogen because the 600,000 trucks operating daily in the UK contribute 18% to road transport emissions. There's also a better business case for refuelling stations focused on trucks and buses since a truck typically consumes 50kg of hydrogen per day, a bus 20kg and a car just 1kg. Given that 1kg of hydrogen costs £15, including 20% VAT (but no fuel duty), just 1,000 trucks moving to hydrogen will generate £750,000 of revenue per day.
So far, Element 2 has made rapid progress with £6.5 million of investment, but two further funding rounds totalling £100m are planned for this year. Ultimately, investment is likely to hit £1 billion by 2027.
The hydrogen fuel cell has been tomorrow's technology since the mid-1990s, but Carbon Zero policies have accelerated their introduction in heavy trucks, soon to be followed in light commercial vans and pick-ups.
"From all we hear from operators, about 30% of operations, mainly urban work, can be met by battery-electric haulage. For other operations, it's the fuel cell that can replace the internal combustion engine," said Brendan Bilton, chief technology officer at Element 2.
Element 2 is concentrating its network on the UK's 147 truck stops to fulfil this emerging demand. It estimates it needs 800 individual nozzles – about five per truck stop – by 2027 to provide comprehensive national coverage. Last July, it announced its first two sites with planning permission approved, one at Coneygarth on the A1 near Northallerton and a second on the M6 near Carlisle.
At its truck-stop sites, the hydrogen pumps will be located on their forecourts, away from petrol/diesel areas. They will be fed by 40-foot-long compressed-gas tanker trailers towed from a central depot. Element 2 has a hydrogen supply contract with chemicals giant Ineos from its Runcorn plant on Merseyside.