One of the best things about buying a brand new car is that you can feel safe in the knowledge that it will be in perfect condition and very unlikely to experience issues. However, data from Which?'s car survey has shown that this may not be the case.
Real consumer feedback for over 50,000 cars in the UK made up the survey and found that new vehicles are experiencing problems that can make them unreliable, expensive to run, and possibly unsafe to drive too. These statistics are worrying as the Government were considering increasing the MOT for a new car from 3 years to 4 years, meaning that some faults could have gone unnoticed for a lot longer.
Here are the five most common faults, and also a few tips on how to spot them and what to do.
Exhaust or emission control system
Affected 5% of new cars
Preventing the discharge of toxic gasses, such as NOx or nitrogen oxides is the main job for the emissions control system. Five percent of all new cars had a problem with their exhaust or emission control system, an issue that has been pushed into the spotlight following the Volkswagen emissions scandal in 2015.
Most modern diesel cars are built with a Diesel Particulate Filter (DPF), specifically designed to capture and store the soot in the exhaust emissions. If this DPF fails or becomes irreparably damaged, it can lead to a costly MOT failure. You can read up more on the importance of maintaining your DFP filter here.
Assuming the Engine Control Unit (ECU) works correctly in your vehicle, you will get a "check engine" warning light appear on the dashboard if your exhaust is not working properly. Alternatively, you may experience a loss of power or thick smoke coming from the exhaust.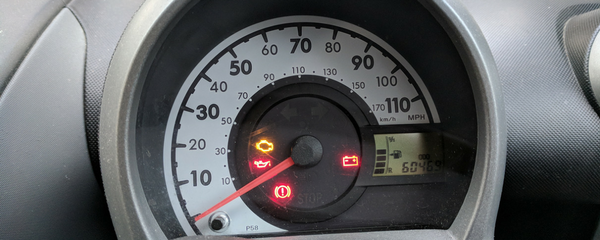 Sat Nav failures
Affected 4% of new cars
One of the most popular add-ons for new vehicles is the sat-nav package. Surprisingly, it is one of the most common things to fail within three years. Although it is not detrimental to the vehicle running, it can be very frustrating for those who've paid to have it installed for it to not work after a short period of time. Some people find that their in-built SatNavs are not as good as a plug in one but some find it much more convenient to use the built-in one.
Battery
Affected 3% of new cars
Most modern cars come with start-stop technology, helping the car save on fuel when the car has stopped. This requires a more expensive, more advanced battery technology under the bonnet. This, amongst other factors, means that the battery can either falter or die.
It is often down to the driving habits of the motorist causing the fault, taking short journeys, leaving lights on or not unplugging devices when they are not in use. No matter how old the car is, you cannot fix stupid. It is worth noting, battery faults are usually more common in the winter (with Storm Emma battering the UK at the moment) and making sure you are driving responsibly in winter helps.
The "battery" warning light should alert you to a faulty car battery (assuming the ECU is working correctly). Difficulty getting the engine to turnover or the start-stop technology deactivating is usually the first symptoms of a failing battery.
Mechanical brake system
Affected 3% of new cars
Worryingly, 3% of new cars on the road were found to have a mechanical brake system fault. This obviously a major safety concern for everyone else on the road. It is important that you know how to identify faulty brakes, especially if your car is new and therefore does not require an MOT for the first three years.
Indications that your car brakes are on the verge of failing could include a grinding noise, the car veering to one side and vibrations when you apply the brakes. Another sign is acceleration if the car feels slow to accelerate it could be a sign of sticking brakes. If you do notice any of these signs, you should get your vehicle checked immediately. Do not wait until the first MOT is due.
A quick way to test your brakes is to sit stationary with the engine running (in a safe spot!) and push the brake pedal down once. If it is very loose, then there's an issue. If you continue to push the brake pedal and it does not become stiff, that could also indicate a problem with the brake system.
Suspension components
Affected 2% of new cars
2% of new cars were reported to have faults with their suspension components, which include springs, shock absorbers, and struts. If any of these components are damaged, your car should not be driven, especially at motorway speeds, as it can affect steering and make the vehicle difficult to control.
Given how poor the UK road surfaces are, it is no surprise that 2% of new cars have reported having issues with their suspension components. If the car suspension components are damaged, you will notice the vehicle veering to one side, less responsive steering, clunking or banging noises and naturally, an uncomfortable drive.
No matter how new your car is, if you think there is a fault, it is always best to get it checked by a mechanic to make sure you are not putting yourself or other road users at risk.
Have you ever found a problem with a car when it was new? What do you think drivers can do to help? Let us know in the comments