Over the last two months, new roadside cameras have been trialled on the M1 in Northamptonshire, designed to catch and warn tailgaters about their dangerous driving habits.
Since October, 26,000 tailgating drivers have been identified, equivalent to 419 per day. These were drivers of any trucks, vans and cars that were deemed to be to be deliberately flouting the Highway Code's two-second minimum gap.
It has even been reported that of the total, 3,700 drivers were repeat-offenders, tailgating up to 12 times.
The new cameras, developed by Aecom, were installed along a 150 metre stretch of the M1 and operate in a very similar way to speed cameras. They identify and record number plate details that can then be used to issue warnings to offending drivers. In this case, the warning will be in the form of a letter.
The new technology also allows for readings of drivers' distance-keeping to be recorded to determine whether the tailgating is accidental or deliberate. Only in the case of deliberate tailgating will warnings be issued.
Currently, Highways England is in the process of analysing whether or not these warning letters are having a positive impact on driver behaviour. If the results indicate this to be the case, the trial will be deemed successful, and the cameras will be rolled out across England.
Highways England wants to remind drivers of the consequences tailgating can have and said: 'Tailgating is a factor in one in eight casualties on the strategic road network.'
It has also recently been reported that, according to new data from the Department for Transport, serious incidents caused by tailgating have soared to their highest level for at least seven years. Particular concerns about HGVs have been raised, with growing numbers of these vehicles tailgating on stretches of motorway where the speed limit is reduced to 50 or 60mph.
With this in mind, Highways England's head of Road Safety, Jeremy Phillips, has said that these cameras have been put in place to 'make drivers aware of their behaviour and encourage better driving.
He stated: 'These new cameras have, sadly, highlighted just how many people are driving too close on our roads.'
While he understands 'that most tailgating is unintentional by drivers who are simply unaware they are dangerously invading someone else's space', he also wants to reinforce just how dangerous tailgating can be.
'Not leaving enough space between you and the vehicle in front can be very frightening and intimidating – it could also prove fatal.'
However, it is also important to say that while the new system does work in partnership with police, the organisation is not looking to persecute drivers. Instead, it intends to reinforce the message to leave a gap between vehicles.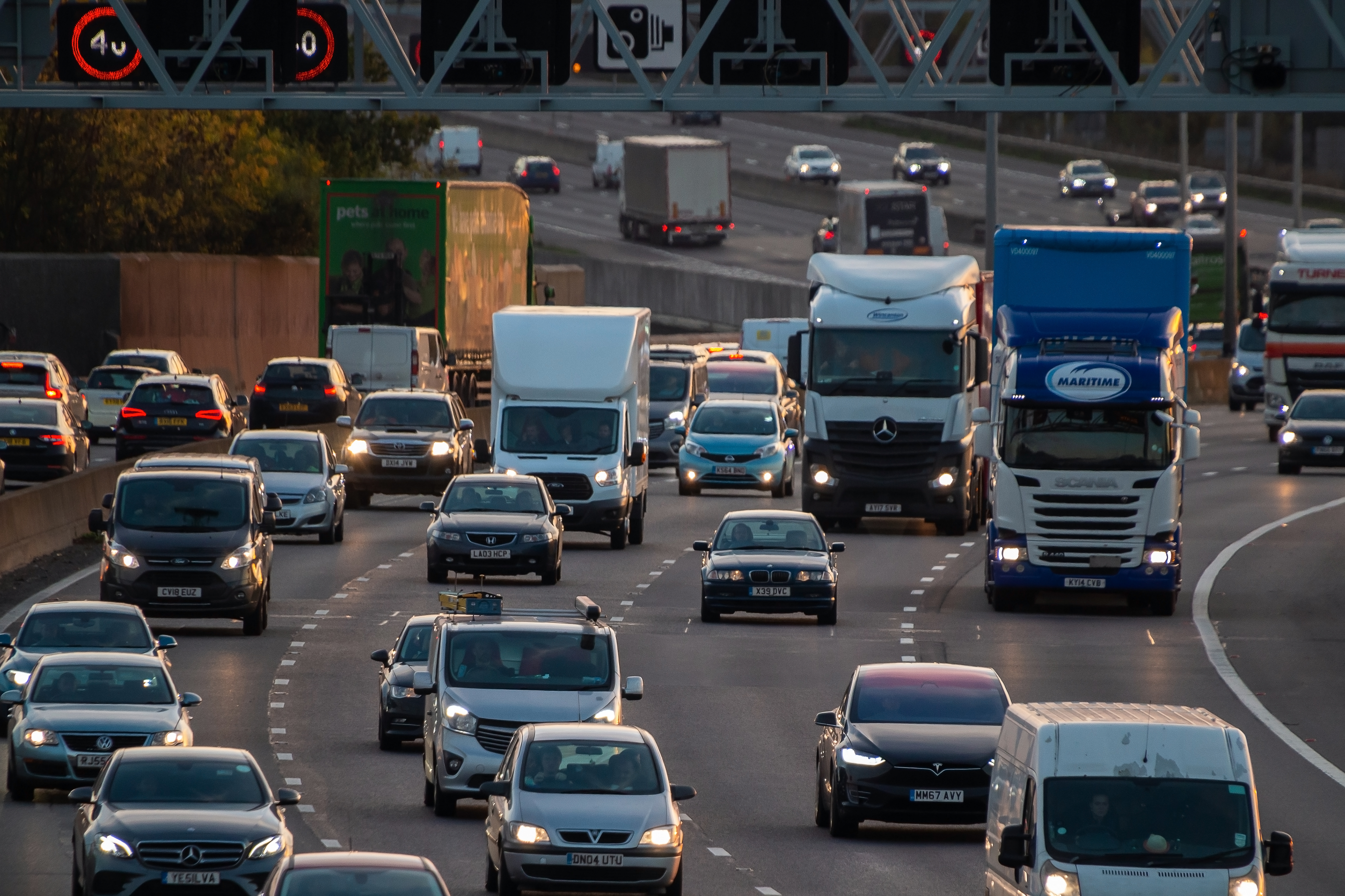 [Image source: Shutterstock, December 2020]
So, what is the two-second rule?
The Highway Code states that, at all times, drivers should maintain a two-second gap between themselves and the vehicle in front. In wet conditions, this should be doubled to four seconds.
The Driver and Vehicle Standard Agency's Chief Driving Examiner, Lesley Young explains that 'keeping a big enough stopping distance is crucial to staying safe, particularly in fast-moving traffic when you have less time to react. Always allow at least 2 seconds from the vehicle in front, and at least double in bad conditions.'
While the rule may appear simple, there are frequent and rising reports from motorway users of dangerous tailgating. One of these reports comes from Data and Intelligence Analyst for Highways England, Caroline Layton. In describing her experience of being the victim of hazardous tailgating, she said she feared she would be crushed by a lorry continually driving too close to her vehicle on the M27, near Southampton.
She expressed her distress to The Times, explaining 'he came up really close, just a couple of metres behind. I thought I had to slow down because if it hit me at 50mph, I would be crushed. This was very intimidating behaviour and likely to cause a crash and serious injury.'
She concluded by warning: 'if anyone had stopped in front of me, he would have gone into the back of my car and I would have been sandwiched in the middle.'
This experience, and many others like it, have forced Highways England to take action with the installation of these new cameras. They hope that, if this trial is successful, the cameras will be used nationwide to drive down dangerous tailgating behaviours on our roads.
Have you been the victim of dangerous tailgating? Do you think these new cameras will eliminate this potentially fatal behaviour?
Tell us in the comments.