When you move house, there's so much to remember to do. Apart from the actual moving process, there are things like council tax, bank information and credit cards to update. One thing we often forget to do is update the address on our driving licence. However, drivers are being warned they could face a £1,000 fine if they don't have the right information on it.
The cost of forgetting
According to the figures, well over a million people have an out of date address on their driving licence – as many as 1.5 million could face a fine, based on stats from Compare the Market. This would net the DVLA a juicy income of £1.5 billion if it issued all possible fines.
The information shown on your driving licence is a legal requirement, in case you have an accident. Likewise, information on the vehicle log book and the road tax direct debit should also show your correct address.
However, most people aren't aware of the seriousness of neglecting this simple task. The research showed that over a third didn't know this was the law. That figure rose to 50% for drivers aged 18-24, 11% of whom use an incorrect address on their licence. This is despite the DVLA website detailing the penalties for not updating your licence when you change address.
Free service
Changing your address with the DVLA is a free service and there's no restriction on your ability to drive while you wait for your new licence to be issued. As Compare the Market's John Miles points out, £1,000 is a high price to pay for something that's free of charge!
This legal requirement is just one that many drivers are unaware of and could face a fine for. Examples of things that can land you a fine include driving with licence plates that are too muddy to be read and splashing pedestrians with puddles – that one can cost you as much as £5,000 if you're found to have done it on purpose.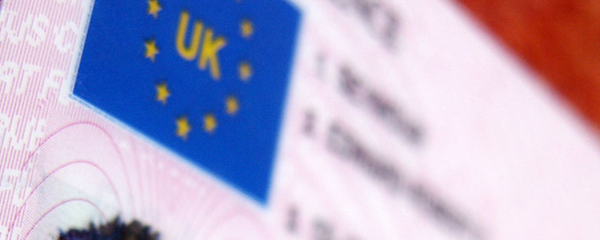 (Credit – Ed Seymour CC BY 2.0)
The nomadic lifestyle
Part of the rise in potential fines for out of date licence addresses is down to the number of people who regularly move home or live in temporary addresses. A 2013 study by This Is Money found that 6.8 million people lived 'unofficially.' Nearly three million of these admitted that they knew their driving licence was wrong.
What many people don't realise is that, in addition to a fine for because of your driving licence, you can invalidate your home insurance by not informing insurers of the people living at your address. Constantly changing address can also damage your credit rating.
Motor insurance
Generally, if your driving licence doesn't have the correct details on it, this won't invalidate your motor insurance policy. However, there can be consequences if you forget to update the details on your policy as well as your licence. For example, you could be rated on the wrong address or fail to receive notifications about a renewal or a problem with your policy.
Updating your information with the DVLA is one of those irritating tasks that comes with changing address. However, as the free service can save you from a fine of £1,000, it is a task that is well worth adding to your list. If you've moved recently, we suggest double checking now to ensure your details are accurate!
Have you been fined for failing to update the address on your driving licence? Are the penalties for this too steep, or should the DVLA issue even larger fines in order to curb the number of transgressions? Leave a comment below to share your views.