Potholes are a long-standing problem on British roads, accounting for countless damages to vehicles and complaints to local authorities. Part of the issue comes from the lack of resources and funding available to quickly and effectively fill potholes.
However, a new machine developed by JCB – dubbed the PotholePro – is set to accelerate repair rates by up to 700% in an effort to restore Britain's roads.
The PotholePro is able to do the job that usually requires three machines, drastically reducing emissions and cost. With a price tag of £165,000 or £600 per week to rent, it offers a much more affordable option for local authorities and road operators and opens up more repair opportunities.
JCB says that this machine is the most efficient of its type, with development leader and JCB chairman, Lord Bamford, stating that: 'JCB's solution is simple and cost-effective and fixes potholes permanently first time. Once the machine has done its job, all the contractor needs to do is just add tar.'
The machine has already been in use in Stoke-on-Trent, and the city council has seen positive results. Initial testing revealed that the machine could complete 51 road repair jobs in just 20 days, a task that would typically have taken up to six operatives 63 days to complete. 
Councillor Daniel Jellyman was pleased with the result, saying: 'Potholes are a nuisance to motorists up and down the country and we've worked closely with JCB to come up with a solution to what is a national problem. In a time when every penny and pound counts for local authorities, we're delighted to be at the forefront of developing and trialling new technologies and ways of working, especially ones which could save residents money.'
The PotholePro uses cutting edge technology to combine a 600mm-wide planer – designed to create a level cut and ensure long-lasting results – with a sweeper and cropping tool, eliminating the need for additional machinery. Tests have already indicated that the JCB PotholePro is capable of completing a pothole repair in less than eight minutes – the equivalent of fixing 700 potholes a month.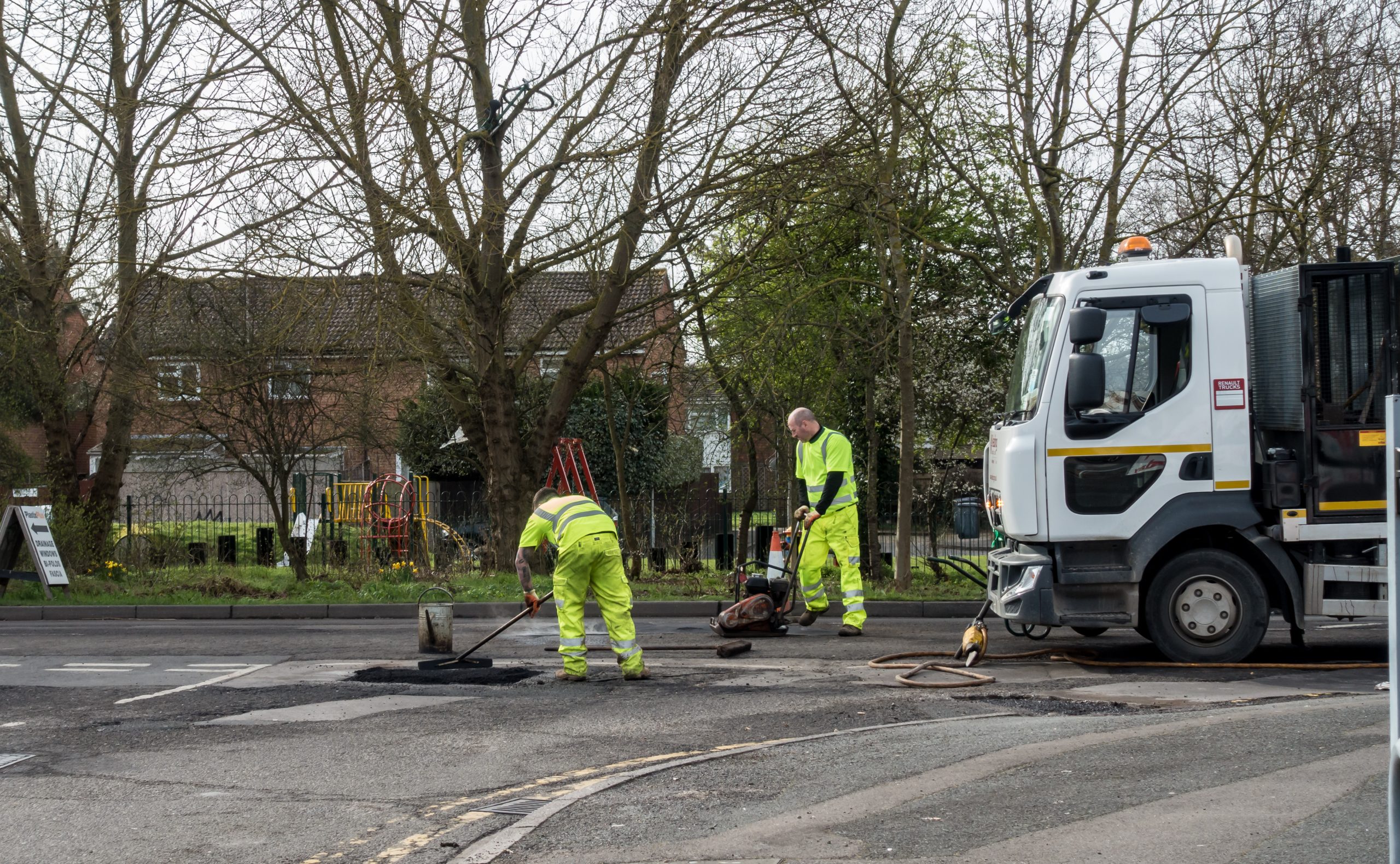 [Image Source: Shutterstock , Jan 21]
The problem with potholes
The development of the PotholePro comes off the back of a particularly bad year for pothole complaints, with reports to local authorities topping 210,000 in some areas during 2020, despite a decrease in general traffic due to lockdown.
In a study conducted by RAC and published in December 2020, 52% of surveyed drivers said that road conditions were worse than 12 months ago, while 38% stated that their biggest concern as a driver was the state of council-maintained roads. Between July and September 2020 alone, the RAC saw 1,900 call-outs for damaged shock absorbers, broken suspension springs and distorted wheels, likely to have been caused by potholes.
The issue was recognised in the government Autumn 2020 Spending Review, with Chancellor Rishi Sunak vowing to invest £1.6 billion to fix potholes in Britain in an attempt to 'level-up' uneven roads.
However, in response to the Chancellor's statement, chair of the AIA Rick Green said: 'While these spending commitments are welcome in these challenging times, we are aware that the sums outlined will not be enough to plug the existing multi-billion-pound backlog in road maintenance funding and so our ageing network will continue to decline.'
He went on to suggest that 'what's needed going forward is an additional investment of £1.5 billion a year for 10 years to improve the experience of all road users, support recovery an deliver a much-needed boost to the economy.'
It is hoped that JCB's PotholePro will relieve some of the issues faced by local councils in their endeavour to fund the upkeep of their roads. AA President Edmund King OBE reinforced the importance of road repairs in saying: 'The toll of pothole damage on cars is already breath-taking. However, as more people take up cycling due to avoiding public transport in the pandemic and if e-scooters are legalised, then sorting out poor road surfaces is more important than ever.'
He finished by praising JCB and their efforts to overcome the issue with potholes: 'JCB has taken the initiative to fix these problems, and we're excited to see its new PotholePro take to the streets.'
Are the roads in your local area littered with potholes? Are councils doing enough to protect our vehicles from pothole damage?
Tell us in the comments.