After its approval for use in the UK in June of this year, a 'new generation' speed gun is being rolled out to police forces across the nation.
This newer, more efficient model is the successor to the original and widely used TruCam device and, although both share the same basic features – integrated lasers and technologies to measure the time and distance between vehicles – this newer model boasts an extensive upgrade.
Named the TruCam II, this device not only has a digital video camera to collect and store video evidence for speeding but also has been given an auto-adjust feature for the focus, iris and shutter speed.
Dubbed as the 'next generation' of enforcement devices, the TruCam II can accurately identify a vehicle, make and model, and read a number plate from up to 1,500 metres away (0.9) miles. Drivers, however,  may be reassured to know that the device is calibrated to the 750-metre maximum distance limit set out by the government.
Laser Technology, Inc (LTI), the manufacturer of the TruCam II, has explained that while the device will be used predominantly for speed enforcement, it can also be used to catch tail-gaiting, distracted driving and even motorists who fail to wear a seatbelt.
It is the hope that this most advanced hand-held speed gun to date will make the process of punishing motorists less time-consuming for police and will aid in the endeavour to keep Britain's roads safe.
With new technology installed, it eliminates the need for officers to stop motorists to issue fines by allowing any details captured to be uploaded directly to a database. This will then trigger the automatic issuing of penalty notices to the vehicle keeper's address.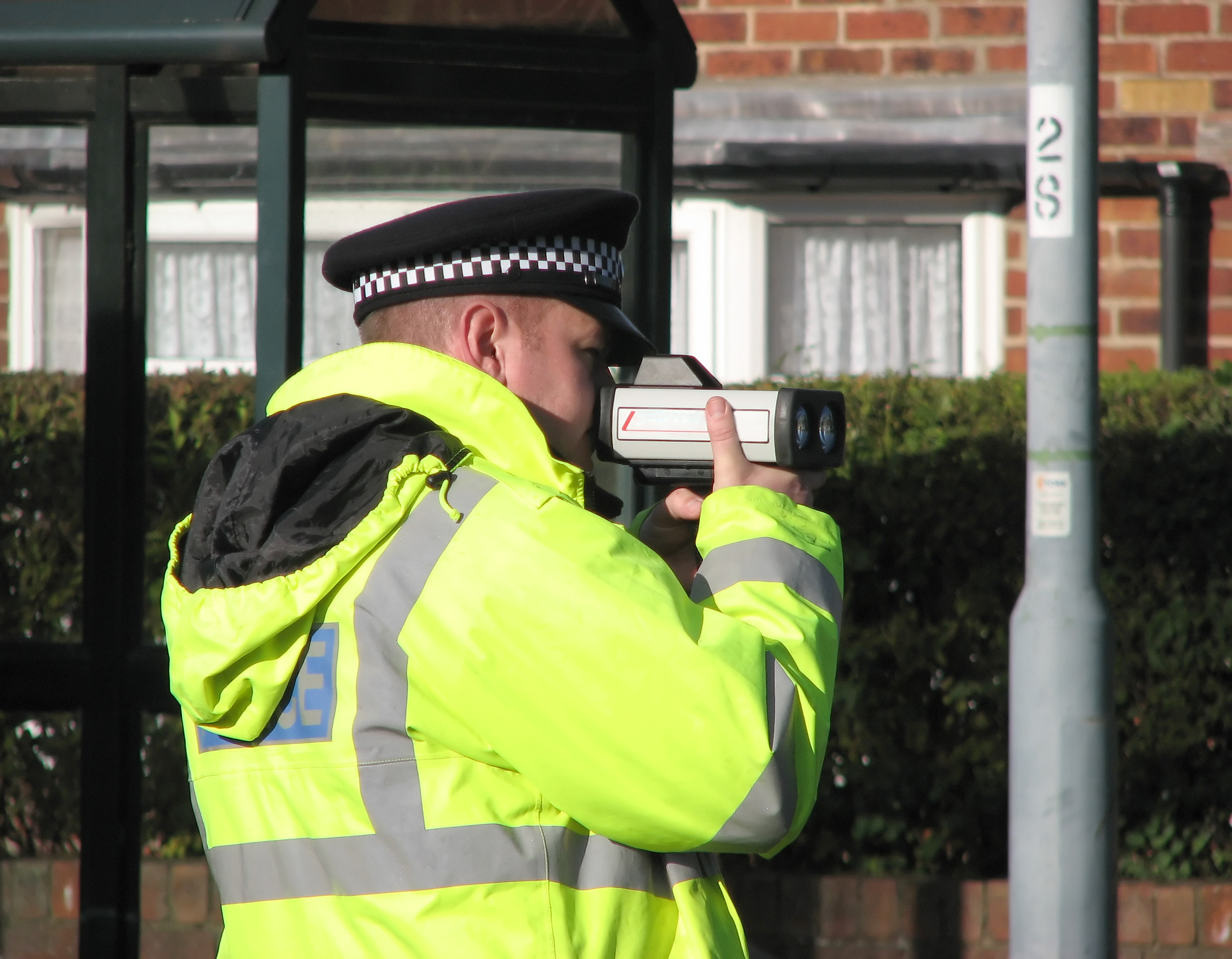 [Image: Source Shutterstock, December 2020]
UK police forces already making use of TruCam II
Police Speed Enforcement Departments across the UK have this week confirmed that they are part-taking in the trialling of these new gadgets, with police forces in Northumbria and Warwickshire among some of the first to test them out.
Superintendent Helena Barron, head of Northumbria Police Operations department, has hope that these new cameras will support the Northumbria Safe Roads Initiative. She states that 'these cameras are another tactic at our disposal to tackle motorists who are unwilling to follow the rules.' She believes that they will make a significant improvement to the safety of the region's roads.
Northumbria Police have also trained dedicated traffic Specialist Constables to support this initiative and to ensure that the implementation of these new cameras has a beneficial impact on road safety.
These new cameras, however, come with a high price tag, currently costing an average around £10,000 each. This does not appear to be a  deterrent though, with the Warwickshire police force announcing that they have spent £20, 000 of funding from the Road Safety Fund to acquire these new cameras.
In a statement this summer, the Warwickshire Police crime commissioner explained the reasoning behind their ramped-up efforts to deter drivers from speeding. He said 'speeding makes it more difficult for a driver to maintain control of their vehicle and the police have my full support to enforce speed limits and take action against those who break the law as this will make Warwickshire's roads safer for everyone.'
Inspector Jem Mountford went on to praise the TruCam II, explaining that 'the new equipment is very portable, and this means officers can easily set up anti-speeding operations on hot spot routes identified by the force, with the added benefit that officers can be more mobile and responsive to changing demands.'
Their investment in the TruCam II comes after a concerning set of data collected from a two-week national speeding campaign conducted in May this year, where police in Warwickshire issued almost 3000 speeding tickets to irresponsible drivers. The highest speed recorded was 106 mph.
Inspector Kirsty Clough further commented, highlighting the severity of the situation with a harrowing set of recent statistics; 'In Warwickshire, between 1st January 2017 and 31st December 2019, 92 people were killed and 669 seriously injured in collisions where speed or loss of control were recorded as a contributory factor.'
The rolling out of the TruCam II, Warwickshire Police believe, will help them to drive these numbers down.
Do you think this newest TruCam device will serve to improve the safety of our roads? Will you be more aware of your speed in light of the rolling out of these new speed guns?
Tell us in the comments.