Figures show that nearly one-quarter of a million cars were broken into in the UK in 2016 which is an increase of 4% on the previous year. The 42 police forces around the country received a total of 239,920 reports of break-ins which is an increase of 8,698 on 2015. According to the RAC, forgetting devices such as smartphones and satnavs could be playing a big part in the rise.
A varied picture
While there was an increase in the number of cases reported on 2015, the overall figure is still 9% lower than it was five years ago when there were 263,574 break-ins during the year. Of the police forces that provided updates to the RAC, Northamptonshire saw the second most significant increase in the percentage of thefts from vehicles – up 41% from 2015, with the number of reported crimes rising from 2,864 to 4,043.
The City of London saw a substantial rise, a vast 76% in the number of cases rising from 46 to 81. Other forces that saw a considerable increase were Wiltshire and Dyfed-Powys where there was 23% rise in the cases reported to 2,074 and 549 respectively.
Some areas saw a decrease in the number of cases. Cheshire saw a decline in their figures with a drop of 19% from 2015. Cumbria saw an 11% decrease from 780 to 697 cases, while North Wales saw a reduction of 10% in cases from 1,326 to 1,187.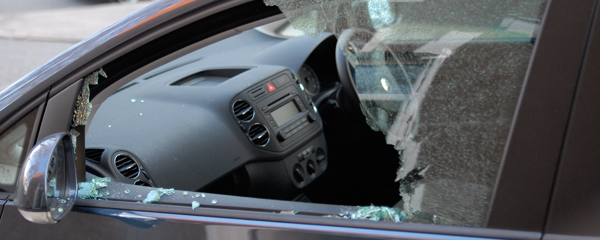 © Copyright Mike Knell and licensed for reuse under this Creative Commons Licence.
Opportunistic thieves
Overall, the RAC believe there is a worrying trend that saw more than half of police forces report a rise in this type of crime in 2016 compared to the previous year. They firmly believe that opportunistic thieves, who spot gadgets left in vehicles, are the reason for the rise.
Most break-ins occur due to thieves finding something of value that has been left the vehicle, that can be quickly and easily sold on, said Mark Godfrey, director of RAC Insurance. Drivers have become more complacent about leaving devices in vehicles on display.
People often leave their smartphones in the car which are also very attractive to a passing thief. Using the smartphone as a satnav means people often forget to remove them from the cradle they use for this purpose – and this leaves them easy to spot.
Ignoring alarms
Another problem is that we are becoming somewhat immune to the sound of a car alarm. At one time, an alarm sounding would bring people to the window to see what was going on and would increase the risk for thieves. But now, we often ignore the sound of a car alarm, and this makes the prospect less of a deterrent for thieves.
Many people think that a car alarm is a great measure to stop thieves, and that their devices will be safe inside their cars because of them. But our habit of ignoring the sound of an alarm, assuming it is just malfunctioning, or a window is open, means that these alerts are no longer effective.
Car theft
As well as stealing from inside vehicles, theft of the entire vehicle is also on the increase. According to figures, there has been a rise of 30% in the last three years across the UK, and criminal gangs are starting to use more sophisticated techniques than ever.
As technology advances, thieves are using techniques such as car hacking to access keyless entry systems. By using pairs of radio transmitters, to intercept the signal from key to the car, they can locate the vehicle in less than a minute.
So not only do we need to be aware of what we leave in our vehicle, but we also need to take a moment to think about where we park our cars. Use well-lit spots, near the house and consider adding old-school security on top of the modern options to protect the whole vehicle.
Are you guilty of leaving tech behind in your car when you pop into the shops? Have you ever had anything stolen from your car? Let us know in the comments below