If you've ever watched Top Gear, you'll most probably have heard them bemoaning Peugeot drivers and Peugeot themselves. One particular skit comes to mind entitled the "Modern Peugeot Drivers Adventure" in which James May and Jeremy Clarkson drive rather irresponsibly, poking fun at the stereotype that Peugeot's are badly built and badly driven.
However, in a new study by JD Power, they reveal that the most reliable car brand in the UK in 2018 was indeed Peugout themselves. Long gone are the days of unreliable smaller cars, now mass production car brands are appearing higher and higher in surveys on reliability.
The JD Power dependability survey, now in its fifth year, measures the number of problems experienced per 100 vehicles (PP100), with a lower score indicating better performance. The study measures 177 problem symptoms in eight categories: vehicle exterior; driving experience; features/controls/displays (FCD); audio/communication/entertainment/navigation (ACEN); seats; heating, ventilation and air conditioning (HVAC); vehicle interior; and engine and transmission.
One of the main takeaways was that since last year all problems, aside from seats, have improved in their PP100, with ACEN issues actually decreasing year on year. Unsurprisingly premium vehicles reported more issues with ACEN, due to the higher number of vehicles that have more sophisticated systems.
Customers who bought vehicles that suffered engine faults were less likely to buy that brand again, more than any other issue. Engine failures had the greatest negative effect on repurchasing habits and on brand reputation.
Another major point was that even though electric and hybrid vehicles had more issues than any other car type, owners of those vehicles were more likely to repurchase the same car or brand again than any other engine type owner.
How did different brands compare?
Peugeot ranked top, with 77PP100, joining nine other 'volume brands' with Skoda in second and Hyundai in third.
In the more premium brands, Volvo came out top, but still only 10th overall with a PP100 of 106. Mercedes followed in second with 136 PP100.
Brands that used advanced technology as a major selling point for their vehicles also had higher noted dissatisfaction or issues from customers.
"When we look at the PP100 scores of relatively new safety technologies, it's clear that manufacturers still have work to do to perfect those systems—particularly premium brands that use them as a major selling point," said Josh Halliburton, Head of European Operations at J.D. Power. "It's also going to be vital for vehicle makers to win customer trust in this technology if they are to convince potential buyers that fully automated vehicles in the future will be reliable. For example, such buyers are quite likely to question the safety of self-driving cars if brands still struggle with the accuracy of their navigation systems."
The graph below shows the 20 most popular brands, ranked by PP100 score. It is worth noting that Jeep, Mitsubishi and smart were included in the survey but were omitted from the overall results due to small sample size. Source: J.D. Power 2019 UK Vehicle Dependability StudySM (VDS)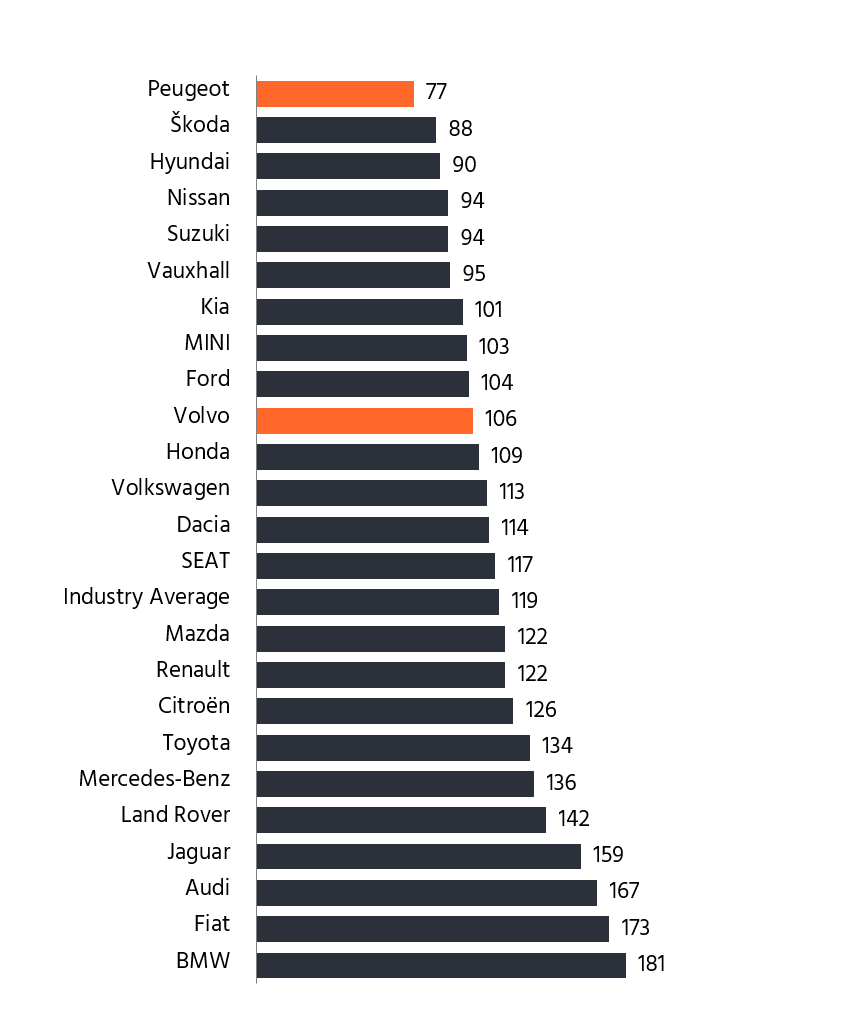 The survey not only ranked brands but individual cars. They looked at the top three models in each segment; City Car, Midsize Car, Compact Car, MPV, Compact SUV, Small Car, Large and Luxury Car, Small SUV.
The VW Up! Came out top in the City Car and their Tiguan also won the best Compact SUV. Vauxhall also took away two top vehicles with both the Insignia and the Mokka/Mokka X hitting top in the Midsize Car and the Small SUV respectively.
The Skoda Octavia was the best Compact Car and the Ford C-Max/Grand C-Max was the best MPV. The best-rated brand Peugeot had the best Small Car with the Peugeot 208 and finally, Mercedes had the best large and luxury car with the E-Class.
Was this the result you expected? Would you consider purchasing one of the above? How dependable is your vehicle? Let us know below.