It wouldn't be a usual week without a Brexit headline in the news. Often the story has relevance on the motoring world, hence why
PetrolPrices.com writes about the European Union divorce
so often.
The latest news, though nothing too dramatic, is yet another thing for us drivers from the United Kingdom to think about, which is when taking our cars on any future trips to any of the 27 EU nations, we now must slap on GB stickers—including when we're visiting Ireland.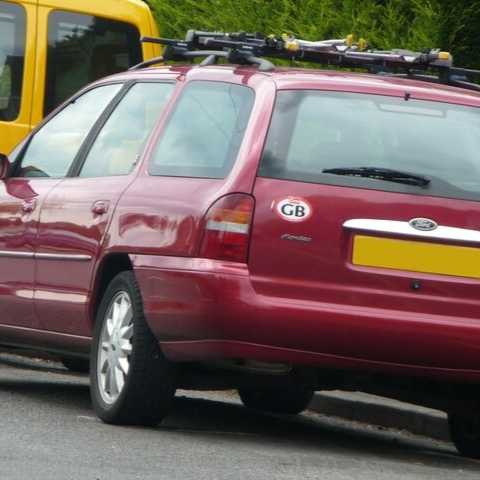 Under present rules, it's acceptable for UK motorists to enter Ireland (sometimes known as The Republic of Ireland) as long as our vehicle number plates have the GB letters on them. Yet the British government has warned this won't suffice after Brexit.
The statement comes as ministers intensify their preparations before the planned 31st of October departure date.
After Brexit, if you're a driver from England, Northern Ireland, Scotland, or Wales, and you visit Ireland, you'd better make sure you've remembered to buy and affix a GB sticker to your motor if you want to gain entry.
The advice applies to all UK-registered cars, including those from Northern Ireland. No longer will it be adequate for your number plate to show the GB letters against a blue background. When we and the EU go our separate ways, the demand from Ireland that we display our stickers becomes compulsory as a condition under the 1949 Geneva Convention on Road Traffic.
Regarding an International Driving Permit (IDP), which is a permit that allows you to drive in countries where a UK licence isn't enough, if you own a UK licence, you won't need one to drive in Ireland. Even if the UK leaves without a deal, unless your visit to Ireland lasts for over 12 months, only then will you need an IDP.
It's worth noting too, that if you get disqualified from driving while you're in Ireland, you might also find yourself banned once you're back home.
Simon Williams, Media Relations Manager at RAC, has predicted the new law requiring drivers to display the white GB stickers, could cause problems for those travelling overseas—more so for those who make regular trips across the Irish border.
Williams said:
'While it might seem ridiculous that this will no longer be enough to let authorities know a vehicle is registered in the UK, the latest advice from the government is clear.
'Anyone travelling to an EU country, including the Republic of Ireland, must display a separate white oval GB sticker on the rear of their vehicle.'
The RAC recommends that motorists prepare for further changes to the rules on overseas motoring, saying everything depends on what situations arise after Brexit and the deal we make (if any).
The Association of British Insurers (ABI) said that neglecting to display a GB sticker wouldn't invalidate our motor insurance but still advised that we follow all the insurance conditions.
Once you have your GB sticker, you must display it at the rear of your car when visiting anywhere within the EU. You'll be able to buy yours from places like Halfords or at multiple online retailers—I saw them for sale from 99p with free delivery online. Just make sure that your sticker has black letters on a white background, that the sticker is an ellipse in shape with a greater width than height, and that the letters are at least 80mm high with a stroke width of at least 10mm.
You can apply for an IDP at the Post Office by taking along your full, valid, UK driving licence photocard, a passport standard photograph showing your recent, true likeness, and £5.50 for the application fee (payable with cash or by debit or credit card).
If you only hold an older paper licence, you must take with you your valid passport as proof of identification.
You could once apply to motoring organisations such as the RAC for IDPs but this stopped on the 1st of February this year. This means, if we have a no-deal Brexit, it'll be more difficult to get a permit than it had before February.
If you need an IDP for Ireland, you'll want the 1949 convention IDP, which is valid for 12 months and also covers you in Cyprus, Malta, and Spain. For anywhere else in the EU, you'll need a 1968 IDP—valid for either three years or for as long your driving licence is valid (whichever is shortest).
Driving licence requirements vary across the world, so if you plan to rent a vehicle and you book in advance while in the UK, either ask the car rental company to confirm the driving licence requirements of the country you're visiting or get an IDP as a precaution.
Remember, it's our responsibility as drivers to check with the specific country's driving authority about a country's particular rules on driving.
Are you bothered about having to get a GB sticker for your vehicle? Will this news affect you? Do you foresee any problems or any further changes to motoring brought on by Brexit? Tell us in the comments.