A few years ago, one of the motoring rescue services were found to be upselling car batteries to supposedly vulnerable users that had broken down with a flat battery; except these broken-down vehicles were part of a sting, created by the BBC Watchdog programme.
Recently, Auto Express have revealed that they too have been investigating the trade of 'car batteries', but from a slightly different perspective; with no regulation and no comparison sites, having a new battery fitted to your car has become almost lawless, and unfortunately, relying on the franchised main-dealer may not be much help.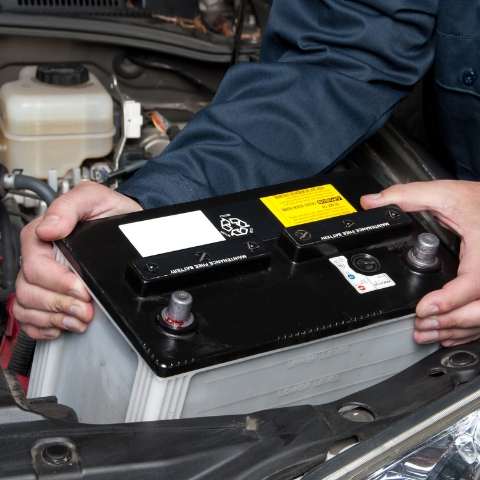 As part of their investigation, Auto Express contacted three franchised service departments for 20 of the most popular models in the UK, including Volkswagen, Toyota, Mercedes-Benz and Vauxhall, if you're a Toyota driver then you needn't worry too much, for all the other brands … shopping around is key.
The Mercedes-Benz dealerships quoted between £315 – £1,248 (no, that isn't a typo) for a replacement battery for a C-Class – same battery, same car, same procedure. Vauxhall dealerships (while not quite as wide open as Mercedes) were similar – the lowest price for a Mokka battery replacement was £98, the most expensive being £263.
For reference, Auto Express contacted a large independent chain for prices, the Merc came in at £165, so even their lowest official price is somewhat inflated, and yet the independent chain aren't known for being gentle with pricing either.
Of course, these dealers aren't actually doing anything illegal. Immoral perhaps, but not illegal. Some may argue that if you're wealthy enough (or lacking in the sense department) to pay over £1,200 for a replacement battery, then that's your issue.
But what about the elderly person that knows no better and has no one to support them? Living hand-to-mouth on their pension? That's relying on the honesty and integrity of the franchised dealer where they bought the car some years earlier? If you think that sounds unlikely, it was for exactly that reason why I left the job of Workshop Controller at a main dealer.
The problem is that it's a free market, you're free to choose wherever you want, and unless you know the prices of the battery, and the labour charge, £300+ might actually seem reasonable. For what it's worth, replacing a car battery typically takes less than 15 minutes. Although of course, that doesn't include the 'free check' of the rest of the vehicle, which is the dealer's chance to upsell their products and services for a little profit(eering).
Jonathan Burn, who led the study for Auto Express states: "The problem for the motorists is that the retail price of car parts is unregulated, and therefore there is little transparency or consistency in parts pricing, even within the same dealer networks".
Nearly every one of us will face a replacement battery at some point in our lives, and this study shows that even between main franchised dealers, it definitely pays to shop around. Remember that the garage is making profit on the sale of the battery, along with labour charges, so there is always room for manoeuvre, and you should also remember that it isn't just batteries; many manufacturers have something along the lines of a 'wear parts' catalogue, which allows the dealer to significantly discount any consumable product such as a clutch or brake pads, and batteries will also be included.
It's all very well the Mercedes spokesperson saying that "We can only recommend a retail price for these parts, which means there could be a variation across retailers", but the simple reality is that they could do more to protect their loyal customers from being ripped-off through their official network of dealers.
As I stated last week, very few businesses set out to barely break-even, but having the audacity to charge four times the amount of other official dealers is downright … wrong, and no one from M-B seems to be doing anything about it.
Personally speaking, I'd always ask the garage to give me a breakdown of the quote – parts and labour, ask them their hourly rate, and then work out how long they're telling you it takes. If you're at all unsure, speak to other garages, preferably a good independent, and then compare prices – you'll get no less a service, the battery will have the same warranty, and the worst of it could be that your loafers will need a clean after kicking around a traditional workshop.
Just for the record, all three Toyota dealerships offered the same low price, £105.
What's your view of official main dealers? Do you trust them? Is it the independents you don't trust? Let us know in the comments.