Retailer review
Cleanliness –

– 3.36
Busyness –

– 3.41
Price of fuel –

– 3.15
Customer service –

– 3.22
467 PetrolPrices member ratings
Tesco, like most of the supermarket petrol stations initially started selling branded petrol, either Gulf, Texaco or BP but in the late 80s their own brand fuel went on sale.
It was announced in October 2005 that Tesco was to buy 21 supermarket forecourt stations from Morrisons, making them the UK's number one supermarket fuel retailer with approximately a third of all supermarket based forecourts.
Tesco supplies its forecourts with Super Unleaded 99 Octane. The fuel is a blend of 5% bio-ethanol and has been available since mid-November 2005, at selected filling stations across the UK. This is supplied to Tesco by Greenergy. Early in 2006, 181 of Tesco's filling stations in the South and North West were converted to biodiesel.
Tesco, while it has the largest market share of petrol stations, is the complete opposite when it comes to electric charging. Tesco has the fewest number of charging points of any supermarket with 23 devices, containing 45 connectors. Unsurprisingly, Tesco also has the lowest percentage of electric charging points compared the number of stores with just 0.4% of their stores having them.
Tesco fuel price chart (January 2017 – April 2018)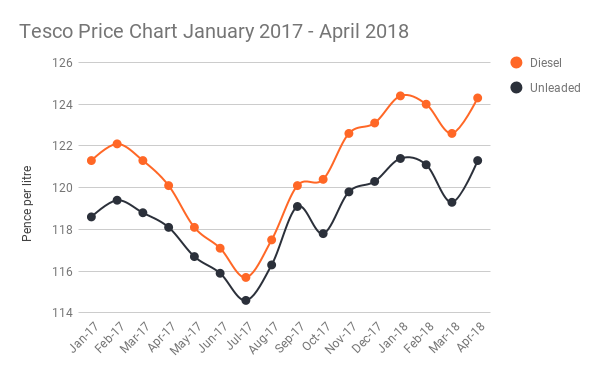 Total number of Tesco forecourts in the UK (2016)
Market share of fuel sold by Tesco petrol stations (2016)
Average volume of fuel sold per Tesco petrol station (kiloliters per annum, 2016)
Download the free PetrolPrices mobile app on Android & iOS!
Report fuel prices, rant & rave about local stations and save money on petrol, diesel and premium fuels.
By providing your phone number, you agree to receive a one-time automated text message with a link to get the app. Standard messaging rates may apply.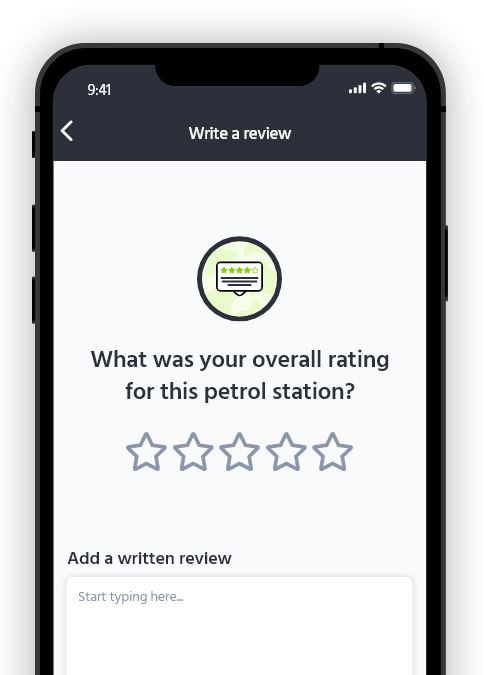 © Copyright 2020 PetrolPrices.com Ltd., Manor Coach House, Church Hill, Aldershot, Hampshire GU12 4RQ