Since 2003, diesel has consistently been priced higher than unleaded fuel on UK forecourts. However, a significant shift has occurred recently, as diesel prices have dropped below unleaded prices at an increasing number of locations.
In 2022, diesel prices peaked just below £2.00 per litre with a difference of over 13 pence per litre (ppl) compared to unleaded fuel. Both unleaded and diesel have dropped since July 2022; however, the difference between the two grades reached over 24ppl in November 2022. In March 2023, the wholesale diesel market experienced a notable decrease, while unleaded prices remained relatively stable, with a slight increase. Both have continued to drop through April, resulting in the wholesale diesel price falling below unleaded.
As these reductions in diesel prices gradually make their way to the pumps, our users have reported diesel being sold at or below unleaded prices at 1 in 10 petrol stations over the past week. Notably, leading supermarket chain Tesco has emerged as a key player in this price shift, with 15% of reported petrol stations offering diesel at or below unleaded prices. Sainsbury's and Asda follow closely with 12% and 7% respectively, while Costco members enjoy both some of the lowest prices and with 32% of petrol stations offering diesel below unleaded.
In addition to the major retailers, several smaller brands and independent petrol stations are leading the way in reducing diesel prices. Brands such as GO, Solo, Scottish Fuel, Nicholl Fuels, Star, Total Energies, and Circle K boast over 33% of their sites selling diesel at or below unleaded prices.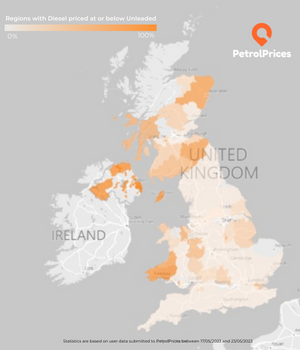 However, it is worth noting that the availability of lower diesel prices varies significantly across different regions of the UK. For instance, in Greater London, only 4% of reported prices show diesel being sold at or below unleaded prices. In contrast, drivers in Northern Ireland can expect to see stations offer diesel at or below unleaded prices with 80% of reported petrol stations offer diesel at or below unleaded prices. Aberdeenshire and the Highland regions also demonstrate a high proportion of petrol stations with lower diesel prices, with only 43% of stations selling unleaded above diesel. Meanwhile, in Carmarthenshire, diesel users are likely to find prices equal to or below unleaded at 71% of stations. Unfortunately, in Devon and Cornwall, most stations (96%) have diesel prices above unleaded, leaving drivers paying more for their fuel.
Diesel and unleaded prices are charging quickly currently, and competition is helping to drive down prices and ensure that UK drivers are being charged a fair price for their fuel. If you see a price that has changed, please consider updating it on the PetrolPrices app to help other motorists save on their fuel costs.